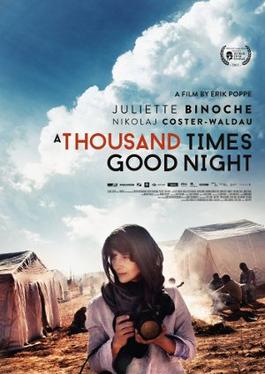 In his first English film, the Norwegian director, Eric Poppe has focused on vulnerability of relationship in a nuclear family of a third world country. The female protagonist's creativity and craving for a job of her liking stumbles upon the roles and responsibilities in the institution of marriage. Despite being willingly responsible towards her family as a mother and, wife, Rebecca — a successful photojournalist struggles to win hearts at home because of her inability to spend enough time with the family. The film lucidly illustrates the course of her work and life in the film. To give the film a morbid tone, Eric has deliberately used minimum dialogues and maximum expressions. This has become the hallmark of the film 'A Thousand times good night'. He has succeeded in bringing out critical shades of emotions of characters with close shots. The poignancy of the characters in the film heightens the intensity of a conflict that an average ambitious family faces quite often. Juliette Binoche shows the superlative class of her acting skills and takes the film to a height with her brilliance and grace. Eric Poppe hits the right chord of sentiment of the audience as he might have faced a similar situation being in the same profession in his early life.
The central character of a professional photographer and a journalist is played by Juliette Binoche, who visits war ravaged areas as a part of her professional commitment there by risking her own life. Though she never shies away from her responsibilities towards the family but her demanding profession does not allow her to manage enough time at home. Rebecca can give time to her family only between her assignments. The guilt of neglecting her family and two growing children haunts her when she is back home. The lingering risk of death associated with her profession has an adverse effect on the young minds of her daughters and her husband, Marcus. They are petrified as they live in a perpetual fear of losing her when is on an assignment. Marcus unconsciously inflicts such thoughts on the tender souls of their daughters which may be the only way to deal with the possible cataclysm. The problem becomes so deep rooted that the father and daughters gradually become emotionally distant from Rebecca. The rhythm of their lives gets disrupted whenever she comes back recovering from near death. They look at Rebecca as an alien, and constantly hold her guilty of not caring about her family in pursuance of her own career.
One day, with an accidental detonation of a human bomb she was filming, Rebecca becomes seriously injured. She is brought back home by her husband from the nursing home in which she was recuperating. She then decides to quit working to spend the rest of her life with the family. Things start to get normal as she starts spending more time with the family. But thing takes a turn after she refuses to accept an assignment in a war-free zone. This time, Marcus insists her to visit the 'conflict-free' site in Kenya with her elder daughter, Steph with the idea that this tour will help Steph in finishing a school project. This visit finally becomes the decider in the course of directions of their lives.
Steph appears to be fascinated by her mom's work when Rebecca explains how she visits the countries where civil wars are going on due the greed for diamond and precious metals in Africa and begins to idolize her. While she is as strong a personality like her mom, the tenderness of her young heart does long for her mother's unconditional love. Though she is matured enough to not make her emotions public, her heart knows no restraint in getting attracted by the passion and noble works her mother does. She feels immense warmth and attraction for her mother during the time they spend together. She hates to go back to the frame of mind in which she misses her mom and where she has to continuously prepare herself for her mother's death. A major emotional conflict in her life at her age, Steph fights the feeling continuously to become more matured and practical. Her thoughts are complex and contradictory. While on the one hand, she is proud of her mother and admires her, her young mind cannot tolerate her mother's commitment towards her job and holds her guilty of neglecting her daughter, on the other. In depicting this, Director does a commendable job by showing Steph in pain, during a conversation with her mother, continuously clicking the camera directing towards her mother for quite some time inside a car till Rebecca breaks down emotionally. This sudden rebellious action, without any verbal expression shows a young daughter accusing her mother for staying away for her own commitment and mother's feeling of guilt at daughter's reaction. At this point, both the actors acted so brilliantly that the director, I believe, had to do a little to wrap up the shot. Young, Lauryn Canny did a wonderful job in letting these emotions flourish before the camera.
Nikolaj Coster-Waldau, in the role of Marcus, is a marine-biologist who plays the role of a perfect family man. He is a doting and responsible father to his daughters. He maintains social obligations. He is perfect at his job. He is a multi-tasker. He is very different from his wife in pursuing his career. He finds his wife's attraction towards her responsibilities for the job as fatal and infatuated when Rebecca on a visit to a 'no-conflict' zone with her daughter Steph started her operations with obsessive haste, when the camp is suddenly invaded by the terrorists, completely forgetting her commitment of quitting in front of the family. Marcus throws Rebecca out of his home as he finds Rebecca selfish enough to place her own job before her family. Finally Rebecca has to part way from her family as the damage done appears to be too deep to be reconciled.
The director finishes the film with the conflict in the mind of a professional, Rebecca where she starts fumbling after going back to complete her unfinished project seeing a young suicide-bomber of her daughter's age. Though critics may debate on this point of finishing the film as they find it too inconclusive to justify what the director is trying to decipher from it but the combination of a very pertinent subject and a power packed acting will definitely force the audience to ponder for quite a long time after watching the film.