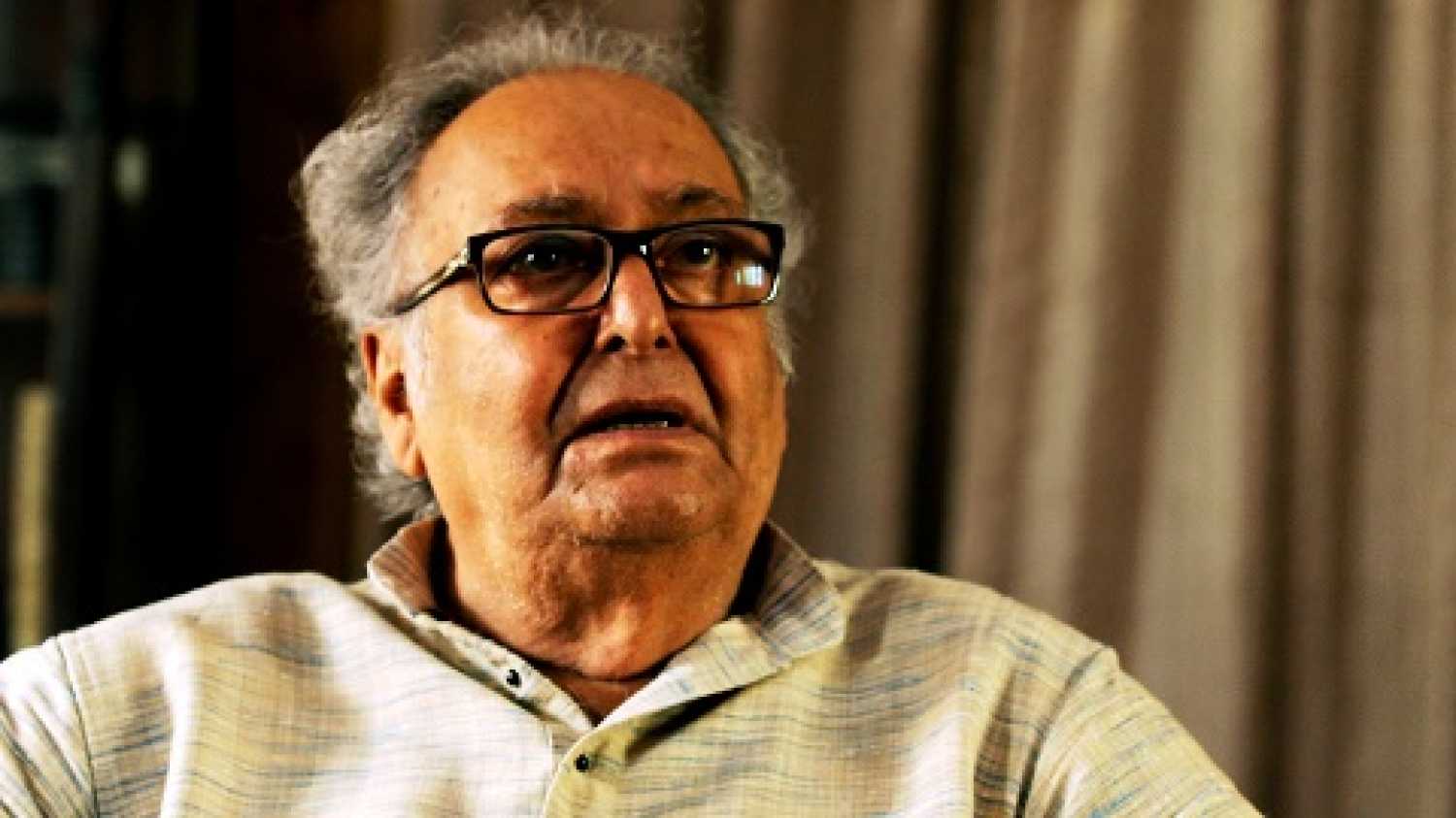 Soumitra Chatterjee, the ace international actor, poet, elocutionist, director, theater personality, finally wins LEGION D' HONNEUR from the French Govt. for his colossal contribution to international cinema and various art forms.It comes after Satyajit Ray won it in 80s. This is the second time another Bengali persona bags the same honour.
While talking to Soumitrada (Chatterjee) on the sarkarrare honour, he said: "I think, this is the highest foreign honour I am going to receive from the French Govt's Cultural Board." However, he does not forget to reiterate that "Honour" of any kind always makes me humble and pushes me to more commitment and involvement in the turf he is operating. Said he: "Highest Indian Cinema honour DADASAHEB PHALKE award was conferred on me much earlier. And as an activist in progressive ideas and dialectics, I too feel honoured."
ON PORTRAYAL OF VARIOUS CHARACTERS
What makes each of my characters totally different from one another is my desire to understand these human beings… to understand the situations and the circumstances in which a human being survives or suessful or unsuccessful. I try to understand the man in all of these situations."
ON AWARDS OR RECONDITE DESIRE
In the first place, I have not received very many national awards, though I have received international recognition, particularly through Satyajit Ray's films. When I was young, I had a certain amount of – what should I say – curiosity about these awards; I thought they served to encourage. But very soon I lost interest and faith in them.
I found out that they were not always given to the most deserving. I also discovered that for being in the limelight these awards have no value; I am where I am because my audience loves me. In fact, there came a time when I thought it would be embarrassing to receive an award at such a late stage in my life. The fact that in 2008 I was given a national award for best actor – my first national award – itself is a pointer that I did not receive this award for my role in any Satyajit Ray or Tapan Sinha or Mrinal Sen film. Of course, the film for which it was given was quite good Podokshep, a serious film, and not a film for which one would feel ashamed to receive an award. But it took so many years to come. Even then, I accepted the award, as by that time I was mellow and mature enough to understand that my audience, those who have supported me for 50 years, would be happy if I did so. And it is this reason, too, which prompted me to accept the Dada Saheb Phalke Award. But I must say, that the award, being a life-time achievement award and not a competitive award, has remained largely unpolluted and uncorrupted. Most of the times it has been given to very deserving people.
Oh, it was long before meeting Sisir Bhaduri. In my house there was a great love for acting and the stage. My father used to love acting and was an amateur actor, though he was a lawyer by profession. In our small town of Krishnanagar, where I grew up, there were many small theatre groups that were active in those days, mainly due to the influence of the famous dramatist Dwijendra Lal Ray. My grandfather was the president of one such group. In fact, I have been acting on stage since I was very small. I remember staging plays at home as a child, using the bed as a small stage, my mother's saree for the wings and the bedcover for screens. Then I started acting in school plays. In those days, a good performance in a school play was rewarded by a medal. And I started receiving such medals, which probably increased my appetite, and by the time I was in the higher classes in school, I was already infected with the desire to act and act and act. It was when I came to study in Kolkata that I saw a play of Sisir Bhaduri's. That set the standard for me. And by the time I was going to complete my graduation, I had made up my mind to become an actor.
I met Sisir Bhaduri through a friend's mother, who herself was a very eminent actress – Shefalika Putul, who acted as Aparna's mother in Apur Sansar. The day we met was a very sad one, as that very day his theatre was closing down. But he asked me over to his house, and I was in regular contact with him for the last three years of his life, and on one occasion I got a chance to actually act in one of his plays. But whatever I learnt of acting in those initial days was from watching him act and learning his ways.
ON ROLE OF SATYAJIT RAY
I would have been an actor in any case. As I said, I had made up my mind to be an actor after I met Sisir Bhaduri. But how successful I would have been is a matter of conjecture. I don't know, but probably it is a two-way traffic, and how Satyajit Ray would have been able to make some of his films without me is also a matter of conjecture.
IMPACT OF TAPAN SINHA ON MY LIFE
Well, Satyajit Ray was an overall mentor of mine. He shaped my attitude towards art, cinema, towards everything. But as far as acting is concerned, Tapan Sinha himself was very keen about the acting discipline. In my first film with him in Khudito Pashan, 1959, he almost taught me how to walk in front of a camera. He was a very practical teacher and taught me so many things. Even though we did not make films together for a while, we remained very close friends, and he would often invite me over to his place to watch a good film, particularly after videos came into being. He would point out the salient points and the strong points in the acting in the film. He could explain things wonderfully, yet never impose anything. When I was doing Wheelchair with him years later (1994), I was already a changed actor and definitely a well-established one, but he still opened new windows for me with his advice. Apart from Satyajit Ray, I have not come across another man like Tapan Sinha.
Neither of them really had any method in dealing with actors. They would adopt whichever method that would suit the actor. Satyajit Ray would give some actors unlimited freedom, like he did to me, to Rabi Ghosh to a large extent; while he would practically treat some like a puppet – "Look to left, widen your eyes", in that manner. He knew all the methods and applied whichever one was necessary for the occasion.
ON ROLE PLAYING
My approach is very spontaneous. I don't take fixed ideas to a role. I keep reading the role, try to understand the person whom I am going to portray, try to understand his social, educational and class backgrounds, and his emotional background – the traumas that he has faced. I try to understand him from various points of views. And whatever emerges from those introspections, I use while acting. But during the actual process of acting, I do not enter the sets with preconceived fixed idea about something that I am going to do come what may.
To tell you the truth, what makes each of my characters totally different from one another is my desire to understand these human beings. To understand human life as such, the process of living in a country like ours, to understand the situations and the circumstances in which a human being survives or struggles or becomes successful or unsuccessful. I try to understand the man in all of these situations. This is my search for man. Among the many abilities of an actor, one is his power to empathise. Without that no one can be a good actor. He also must have the power to analyse, otherwise he will not be able to interpret the character correctly.
There were a number of reasons. When I joined the profession, there were hardly any really good Hindi movies that were being made, and so, being young and a kind of idealistic person, I was not really interested in doing those kinds of roles. And being young I was also foolish; I did not realize the importance of money that Hindi films could bring. I was not interested in that. Some people have suggested that maybe I was afraid to speak in Hindi, but that would not have been a problem at all. I also had the physical abilities and fitness required to do such roles. But I always believed that an actor excels in most cases in his mother tongue. Unless he is speaking in his mother tongue, he cannot manipulate the language to the best of his abilities, cannot go deep into the nuances. In fact, if I look back, I think my strength as an actor depends on my mastery over my Bengali. I am not boasting when I say that there are very few actors who know Bengali as well as I do, being a student of Bengali literature and a writer. Also, I knew that if I had to make Bollywood films, I would have to go and stay in Mumbai and change my lifestyle, which was something I was not ready to do. I am sure if I had gone to Mumbai, I would never have been able to pursue my writing career or my theatre. Also, although I have had international exposure, I am planted deeply in Bengal. I am a Bengali first and then anything else.
SIAMESE STATURE OF TWO GREAT ACTORS
In terms of popularity, no one can surpass Uttam Kumar. I may have come close, but he was ahead. He was also much more keen on preserving his stardom – something which I deliberately ignored. I would often move around like a common man, take part in processions – so many things that Uttam Kumar would never do. He was also a very strong actor whom I admired long before I came into films. All my friends were fans of Suchitra Sen, but I liked Uttam Kumar. Uttam and Suchitra were a hit pair in the 1950s. I came to know Uttam Kumar before I came to films through my brother-in-law, who was his close friend. He was about eight years older than me, and his manners were so sweet and he treated me as a younger brother. But that does not mean we did not have competition, but contrary to the popular notion, it was a very healthy rivalry. We had a good understanding between us. Uttam Kumar was also very encouraging. If he liked a film of mine, he would invariably call me up and tell me so. I would do the same.
PREFERENCE FOR THEATER OR CINEMA
I don't know. I love acting in both the media, but the job that I enjoy most is directing and mounting a play in the theatre. I love theatre. But I love acting in both. Cinema acting is fascinating, very exciting.
ON THE ISSUE OF HIS MODEL
One person who really inspired me was Balraj Sahani. I think he is the best cinema actor that India has ever seen. He could carry on a big role, a hero's role with the nuances of a character actor.
ANY REGRETS?
Yes there have been some. The role in Jana Aranya directed by Satyajit Ray. That bitter role of a pimp. I would have really liked to do that. I cannot say how differently I would have played it, but I would certainly have invested some amount of social awareness in the role.
WHAT YOU ADVISE FELLOW ACTORS
The ADVICE is, there is no shortcut. Work hard and keep that four-letter word in your head about acting. That four-letter word is love. Love your work and that will show you which way to develop.
ON BEST FEMALE ACTRESS?
Of course, Sabitri Chatterjee. She is a versatile actress with huge insight and acting acumen. There is no nearest rival to her.
ON NEED OF MEMORY
I THINK I SHOULD RECALL WHAT LUIS BUNUESL, THE MAVERICK MAESTRO, SAID: " Memory is our reason, our coherence and even our reason. Without it we are nothing."