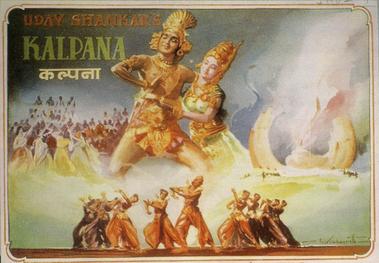 "Shankar's KALPANA, an inimitable and highly individual experiment, shows a grasp of filmic movement and a respect for tradition which lifts its best moments to the peak of cinematic achievements," Satyajit Ray described the only cinematic creation by the famed dancer Uday Shankar in these glowing words.
In the recently concluded 24th Kolkata International Film Festival (2018), this film was showcased as a Restored Classic to commemorate the 70th anniversary of its making.
Kalpana is an extraordinary film in many respects.
At the time of the Second World War, the Government of India had rationed raw film stock. Producers could only make three films a year under license and the length of each film was restricted to 11,000 ft. in order to rationalize the use of stock. In this difficult period, three licenses were issued to the Indian Peoples' Theatre Association (IPTA), to Chetan Anand and to Uday Shankar. IPTA made Dharti Ke Lal (1946), Chetan Anand made Neecha Nagar (1946) and Uday Shankar made Kalpana.
The planning and completion of the film, Kalpana, took all of four years. It was shot entirely in the Gemini Studios in Madras. Uday Shankar, a tireless teacher, trained even bit players to dance. The film ran for 25 weeks at a stretch in Calcutta but failed miserably elsewhere. Audience found it too esoteric, too abstract. Till date it remainsa film with its reputation far exceeding its exposure.
Kalpana, generally unsung, is a landmark in the history of Indian cinema. It breaks completely with all the conventions of Indian film language, discarding all existing formulas, breaking new and virgin grounds. It presents a new theme in a novel manner. In fact its whole approach to the art of cinema is new and different from anything that had happened before in India.
The thematic structure of the film, which incorporates a story-within-a-story framework, is a clever device for camouflaging the main aspects of the film, vis. the fantasies. The prologue and the epilogue, depicting Shankar's desperate search for money, provide the director with convenient points of entry into and departure from the realm of fantasy. And at another level the narrative structure mocks (if not subverts) the entire tradition of narrative films in India. It acts as a devastating satire on the demands and conventions of the Indian film industry.
The flow of images in this film at times sweeps away the thin narrative structure. Then it looks more like a poem (with a flow of image and imagery) than a story (with casual relationships and a progressive pattern). There are digressions even for lyrical effects. The rhythm is to be noticed not only in the dances and the musical scores (i.e. in the obvious aspects), but even in the juxtaposition of shots, scenes, sequences which all contribute to the cumulative rhythmic grasp of the cinematic form (although his management of the histrionic aspects leaves much to be desired). His accurate compositions, framing of shots, and the use of movements within them are breathtakingly original. Here dance is not a mere addition to the other attractions of the film but integrated into the very fabric of what is almost a new cinematic form, hitherto unknown in this country.
There is no better instance of such a perfect synthesis of two diverse plastic art forms in the history of Indian cinema; one is dance, dependent entirely upon abstraction of body movements, and the other is the cinema, being essentially a means of realistic exposition. Indeed Kalpana can be compared favourably with Spanish filmmaker Carlos Saura's Flamenco-based films.
Dance itself is a highly abstract plastic art. But in Indian cinema dance has always been used as one of the various means of narrative exposition and has been assigned a secondary role, conforming essentially to the demands of cinematic idiom (whatever that may mean in the Indian context).
In Kalpana, dance has been assigned the primary role, although cinema does not lag far behind. In fact, Uday Shankar succeeds in bringing about a synthetic fusion between the essential elements of dance and cinema. The abstraction of the material world that dance generates through physical movements, stylized articulation and choreography was complemented in this film by the methods of cinematic exposition like visual rhythm, temporal compression, phonic compositions and mise-en-scène.
Uday Shankar shows an amazing grasp over the cinematic form. Not only are his compositions accurate, framing of shots and camera angles appropriate, and the use movements and special effects brilliant, but one has also to take note of the amount of grace and extent of felicity with which he moves over from frame to frame, and episode to episode without so much as any jerk or incongruity. The sophisticated style of editing (adhering generally to the principles of montage) makes everything fall into a cumulative rhythmic pattern.
However one can enjoy the film properly only if one is a connoisseur, versed in the varied traditions of dance and music, the methods of their abstraction; even if the film is a veritable audio-visual feast, its message will not carry through to the lay persons. In fact the fantasy portions inhere much too personal a statement to carry conviction with the non-specialized audience. Even Shankar's ideas about art and culture can be construed as naive and self-defeating. On one hand, creation to him is synonymous with grand designs at stupendous cost of execution; on the other hand, he cannot stand the sight of wealthy people flaunting their prowess. Ultimately he even invokes divine intervention to save the arts from the clutches of the wealthy. The film also suffers from unconventional histrionics. Shankar does suffer from exaggerated expressions, and stylized actions at many places. But that does not dilute the identity of the film as a work of art. Its artistic value was recognized when its exceptional cinematic qualities were praised at the Second World Festival of Film and Fine Arts of Belgium in 1949.
Ironically enough, Kalpana set in motion a tradition of spectacular cinema the like of which Indian audience had not seen before. S. S. Vasan started it all with his film Chandralekha (1948). It matched the grandiose pattern of Kalpana with gorgeous sets, dazzling costumes and breathtaking choreography. But it utterly lacked the spirit and sophistication evident in Kalpana.
____________________________________________________________________________
Production: Stage & Screen Presentation; Scenario and Direction: Uday Shankar; Camera: K. Ramnath; Art Direction: A. K. Sekhar, Music: Vishnudas Shirali; Lyrics: Sumitranandan Pant;
1948; Black & White; 160 minutes.