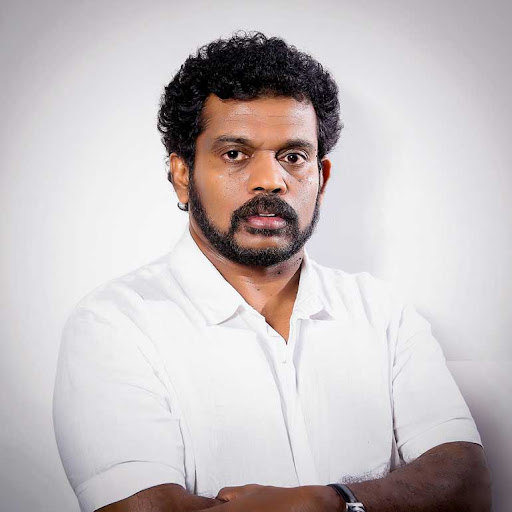 Filmbuff: Tell us about your background?? What draws you to films??
I am known as a man with multiple identities. Academically, I am a mathematician and an economist. I graduated with a first class honours B.Sc degree specializing Mathematics. That was a result of attempting to fulfil my father's dream. He wanted me to become an engineer. I was short of one mark in my Advanced Level exam to be selected to Engineering stream. I did not want to repeat the exam an attempt again. I just settled my mind in following Physical Science stream. Then I opted to follow Mathematics special degree programme as I didn't want to be in the lab for practical classes in Physics.
With this degree in mathematics I joined the Central Bank of Sri Lanka ( CBSL) as a staff officer. For career development in the CBSL, I had to study Economics for my post graduate studies. With my Mathematics, I got an M.Sc in Quantitative Development Economics from the University of Warwick, UK.
So, professionally I became a central banker.
Since my schooling days, I have been practicing various forms of arts. I was known as an artist in the school. Also a poet; short-story writer. I wrote the script for a stage play and produced it when I was just 17 years old. My passion for theatre productions have been growing since these days. I continued that habit of producing theatre works throughout my university life. By the end of my university days I had become a nationally known dramatist.
Then I gradually stepped into television. Television (especially in Sri Lanka) is not for artistic expressions. It is a device to 'market' products. I tried to use this medium as a tool of artistic expression. Episodic tele-features I directed in television were subjected to controversy but were very popular among regular TV audience. But, I lost the battle, after fighting hard for about a decade. I stopped wasting my time in television as the television in Sri Lanka cannot be matured as a form of art anymore. Then, apart from occasional writing of poems, short-stories and lyrics, I fully dedicated my life to cinema.
I quit my job in the Central Bank. It's an early retirement. I didn't do a theatre production during my career in the Bank. This year (2021), I returned to theatre after three decades. I decided to confine myself to cinema and theatre.
So, this is my background.
You have any particular filmmaker/filmmakers from Sri Lanka or from the world who inspired you??
There are many but to be frank I was mostly influenced by Sri Lankan filmmakers; Lester James Peires, Dharmasena Pathiraja and Dharmasiri Bandaranayake.
And I was amazed after watching Satyajit Ray's PatharPanchali. Adoor's Elippathayam(The Rat Trap/1982); Shyam Benagal's Ankur(The Seedling/1974) Tarkovesky's The Mirror(1975), Kieslowski's Three Colours(1994)etc.
But I didn't want to follow them. From the beginning I wanted to find my own path.
I have watched your film "Letters of Fire" in the Osian's Cinefan in 2006, I was there as a Fipresci Juror. What a film!!It completely blew me. Tell us what actually drove you into making that film??
After I directed "This is My Moon" (2006), I was known as a filmmaker who portraits harsh realities of life in a unique cinematic form. Those days we used to come to Prasad's Lab in Chennai for post-production works. I did post-production works of "This is My Moon" (2006) and "Flying with One Wing" (2002) in Prasad Lab. They were shocked to see the freedom of expression that we enjoyed as filmmakers in Sri Lanka.I wanted to push the boundaries further by addressing more politically and culturally sensitive issues.
"Letter of Fire"(2005) was made in this background. After premiering it in Tokyo International Film Festival and in Osian's Cinefan Festival I screened it as the opening film in Francaphony Film Festival held in Colombo. It was a cinema-bomb, if you want to call it like that, to Sri Lankan cultural police. They forced Public Performance Board, which approved the film for adult audience initially, to revoke the licences. They also filed a case against me in courts. I was nearly in jail. Finally, they revoked the license. It was a traumatic experience.
However, a pirated copy of the movie was out in the Internet. DVD's were available with street sellers. Ultimately, the film they banned was the mostly watched movie of mine. Incredible.
You have your strong ties with theatre….Did theatre in any way influenced your style of filmmaking?? Or you have to totally disown it while creating your own unique style as a filmmaker??
I think almost all of my movies have some kind of influence from my theatre experience. Although I had been away from theatre for 30 years, theatre was guiding me from inside. When I planned an act in a movie, composing a shot, setting the tempo for the film during the edit, theatre comes in. It is not deliberate though.
Your tryst with television industry…..was it enriching??
Before entering into cinema, my audio-visual exercises were in the TV medium. I still would like to do an episodic TV feature.
With me, a group of my friends got the experience of handling various aspects of the audio-visual medium through working in the television industry. I stepped into cinema with then experienced people in the industry. My first cinematographer, editor and other technicians were from film industry. But, I wanted to work with those I worked for my TV features. My Moon was the break for them. My current cinematographer, Channa Deshapriya, the editor Ravindra Guruge has been my long time associates in TV industry. Their first work in cinema was "This is My Moon".
Yes, in that sense my ties with TV industry were enriching.
Dunhidda Addara…..what was this about for which you won nine main awards?? Also Diyaketa Pahana…..And also Synthetic Sihina!!
Dunhinda Addara was a landmark episodic teledrama which was based on the lives of a community living near the famous beautiful waterfall. The narrative style, camera work, featured artistes were all new. When compared with what were seen from teledramas those days, this teledrama was a shocking one for the television audience.
It bagged all nine major awards at the OCIC awards ceremony.
Diyaketa Pahana and Synthetic Sihina were very popular and also totally different TV features.
Why Moon Hunt (1996) was not released?? Also why you invited a Japanese cinematographer??
Those days dialogs and sounds of cinema were done using post-synchronization. I was not satisfied with this method. Post-synchronized dialogs sounded artificial. I wanted to try direct recording. But it was a failed exercise. The sound track was horrible in the film. I wanted to re do the sound track but producers didn't want to spend anymore. I too didn't have money. Then this task was postponed indefinitely.
As I mentioned in previous questions, I had a team working with me in television industry, lacking the experience in cinema. Those days a veteran Japanese cinematographer Akira Takada was in Sri Lanka, covering some development projects done by JICA. I had a chance to work with him in those projects. I casually asked him whether he liked to help me shooting my next film. He agreed. We had no money to pay Japanese rates, but he agreed to do it without a payment. I asked many young cameramen to come and work under him to get the experience. They, who were with me around the shooting of Moon Hunt, are now veteran cinematographers in the country.
But, there was a protest against it for hiring a foreign cinematographer in a local film. Veteran cinematographers were of the view that this would be a professional threat to them. But, my intention was not that. I wanted to give the experience to my friends. After this film I shot "This is My Moon", and it was the opening for my cinematographer Channa.
Me Mage Sandai, mentioned as one of the "outstanding revelation of the decade" by "Cahiers Du Cinema" had been widely appreciated all over the world. How did you analyse the film??
Me Mage Sandai( This is My Moon ) was a very low budget movie. I had no money to hire sophisticated equipment for the shoot. No budgets to use tracks, dollies, cranes, steady cams or many lights. So, most of the scenes were planned to shoot in available daylights. So, in order to hide the 'shortage of resources', I had to explore a different form for the film. During that exercise, my eyes accidently caught 'temple paintings' in Buddhist temples. Buddhist stories are painted in these temples as discrete pictures; joint frames. No continuity. Images are two dimensional; they are either facing the front or 90 degree profile. No diagonal drawings.
I applied this technique to build this film. Characters were either facing the front or profile. No continuity in actions. Jump cuts were used in editing. So, it came out as a new style.
Thematically, the film was my expression on what was happening in the villages bordering the war; how the war affected the lives of traditional farming community; how it changed the values and the nature of human relationships etc.
Flying with one wing (2002) is an outstanding film. Bold, evocative and thoroughly provocative, how did the idea occur?? What was the reaction of the people at home and abroad?
The film came out as a reaction to a news article I accidently found in a national newspaper. A woman disguised as a man was arrested by the police on a 'complaint' lodged by a doctor. The way the newspaper reported that incident was disgusting.
This woman was living with another woman as a man for a couple of years. She was compelled to consult a doctor for a continuous pain in her groin area. The secret was exposed to him and that idiot had made the complaint for no reason. The police had stripped off her clothes to reveal the fact.
I was shocked reading this news. I felt like doing a movie based on this specific incident. The film "Flying with One Wing" is a fiction.
For the audience at home the film was about a woman who led an isolated struggle for her own liberation. They did not take it as a film about transvestite woman. But the foreign audience took it that way. The film represented many LGBT festivals and won awards as well.
10. Letter of Fire (2006) is a dark but extremely honest film?? What is your own take on the film??
Letter of Fire or Aksharaya the Sinhala title was the most controversial film. I think I told enough about this in an earlier question
11. In a war stricken country, how did the inter personal relationships shape up in your films, especially in Ini Avan??
After three decades, the war ended in 2009. I was grown up as an artiste during this three decade. Therefore, directly or indirectly, in most of my movies the impact of the war and the ethnic conflict in social/political life of our people was the subject. During the war, I made 'This is My Moon' depicting its impact on rural life. Two years after the war, in 2011 I shot Ini Avan in Jaffna, the capital of Northern Province. What I wanted was to portray the post-war life in that area. It was not as promising as many expected. Insulated from the dynamics of liberal capitalism, for three decades, the province and the life were exposed to a new reality after the war. The capital started flowing free the province changing the values and relationships.
I tried to capture this reality through this film. There was an intense debate on this portrayal. Some really liked it and some hated it.
Audience did not expect that some incidents shown in the movie would ever happen in their real life. But after just two years of releasing the movie, similar but much more severe incidents took place.
12. From the stark reality of adult world, why this sudden plunge towards the lives of young adults in Vidhu…..Was it a conscious decision?? How it differs from your earlier work??
Yes, it was a conscious decision. After that traumatic experience with Letter of Fire, I was away from cinema for 5 years. I could not make up my mind to make a movie. I went on hibernation.
Almost all my movies up to Letter of Fire were for an adult audience. Thematically they suited for adults. But the audience was not mature enough to take them that way. I wanted to do a children movie for this adult audience. That's why I decided to do Vidhu.
But actually I had wanted to do an inspiring movie for children of this country. The formal education system of the country concentrates only on teaching subjects. It did no pay much attention on how to face challenges in life.
Both these wants led me to do Vidhu in 2010.
13. Let her Cry again highlighted the inner desires of human souls, the thin existent line between legitimacy and illegitimacy…..it stars Dhritimaan,one of the stars of Bengali avant garde films and the legend Swarna Mallawarachchi.What drove you to make this particular film? As because you always deal with a very strong content, what provoked you this time!!
Cinema in my country, in a way, can be divided in to two eras. Pre Letter of Fire era and post Letter of Fire era. In pre Letter of Fire era, we, as filmmakers enjoyed a high degree of freedom in expression. This freedom was incomparable when it is compared with that of the region. But with the banning of that film, and the whole experience with it a fear psycho was planted among filmmakers. No one wanted to touch any culturally or politically controversial themes in movies. But towards the beginning of the second decade of new millennium, new attempts were made. After Ini Avan, I again wanted to do a movie on an adult theme. So, I did Let Her Cry.It marked the return of Swarna Mallavarchchi, to cinema after two decades. My first movie Chanda Kinnarie was her last movie before Let Her Cry.With Drithimaan, she did a wonderful performance with Rithika, who performed as a University student.
14. Asandimitta(2019) your latest is an extremely multi layered, complex film. It includes so many dimensions of our society. Why did you pick up this particular story? Nilmini Sigera is a revelation, why all of your themes are so subversive??
Asandhimitta is based on a novel written by Saman wickramaarachchi, a well-known novelist on psychological themes. When I read the book, I was instantly inspired to make a film based on that. This film is the first film I made, based on a book.
I had the freedom from the author to change and delete some scenes, add new ones during the process of transforming it into a movie. The film is about an obese woman who lives an imaginary life. Nilmini Sigera was the best fit for this character. She was a good theatre actress and stayed away from acting for a long time. She accepted my invitation for playing this role.She won the Best Performance award for this role at Osaka Film Festival in 2019.
So far this much. Thank you Sir for your valuable time……