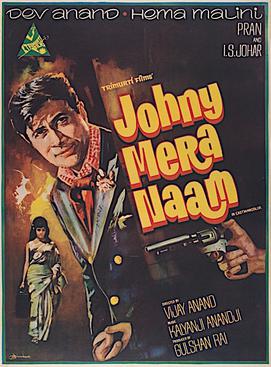 "जॉनी, जुगलकिशोर, उस्मान अली ऐसे कई नाम है उसके ……. रायसाहब, मैंने राई के बराबर भरोसा किया और राई के बराबर धोखा खाया……..आपने पहाड़ के बराबर भरोसा किया और पहाड़ के बराबर धोखा खाया…….. जॉनी ख़ुफ़िया पुलिस का आदमी है ….." (Johnny, Jugakishor, Usman Ali— he has many disguise……. Mr. Rai, I trusted him like a friend but in the end, he betrayed me like a foe…..the same happened with you too……. Johny is an undercover cop)
Yes, that same undercover cop 'Johnny', has completed 50 years from when it first appeared on the silver screen. This is the 50th anniversary of Johnny Mera Naam.
The date '20th November 1970 is very important for Hindi Cinema. The film 'Johnny Mera Naam', produced by Gulshan Rai and directed by Vijay Anand, was released on this date and it was a blockbuster film of the year 1970.
What was in this film that made it so successful? From where did the journey of 'Johnny Mera Naam' really began? What was the contribution of the supporting actors in the success of this film?
At the end of the film, Jeevan (his character Hira), tells Premnath (his character Bhupinder Singh) "आपकी सारी गिरोह की दारोमदार की बात पर टिकी है, जॉनी ख़ुफ़िया पुलिस का आदमी है ! " (The existence of our gang depends on only one thing and that is, Johnny is an undercover cop). Many lives were dependent on this 'Johnny', the most important person whose life was dependent on 'Johnny' was Gulshan Rai.
Rai was a distributor. He had distributed two films produced by 'Navketan Films'. After that, he produced a movie, but it was highly unsuccessful and was a disaster at the box office. Just like the sharp and aggressive dialogues of 'Johnny Mera Naam', a dispute containing sharp and aggressive language rose between Gulshan Rai and a renowned producer-director. (Some say it was B.R. Chopra, some say it was Raj Kapoor…let it be) Who was the renowned producer-director is not the important point here. The important point is the words they exchanged and the impact of those words that led the journey of a film producer in the future.
That renowned producer-director told Gulshan Rai, "You are a distributor. So, stick only to distributing films. Don't try to enter in this creative world of film-making and producing. What do you know anyway about film-making or producing?"
An 'Insult' is a huge thing. It has power to take a person either towards creation of something new or towards destruction. Sometimes this decision is upon the person, where does 'he' want to go. Gulshan Rai was a clever man. As he was a distributor of the films produced under the 'Navketan' banner, he knew Dev Anand well. Goldie (Vijay Anand) was one of the favorite directors of Gulshan Rai and also was one of the major frontrunner directors of that time.
Gulshan Rai was not in a position to pay the fee of a renowned director like Goldie, but this didn't stop Goldie from accepting the offer. He was ready to direct the film for Gulshan Rai.
Gulshan Rai had put forward 3 conditions. Goldie was in such a position, that he was able to accept and complete two conditions out of the three. The third condition was like a challenge for the talented and the commercially successful director which resided inside Goldie.
Gulshan Rai told Goldie, 'K. A. Narayan brings a lot of his stories to me. We will select a story from there. I really like his stories.' Goldie had already directed a film based on K. A. Narayan's story, which was called 'Jewel Thief'. Goldie was ready to select a story from his bunch of stories. The second condition was about the music director. The renowned duo Kalyanji-Anandji was good friends with Gulshan Rai. So, Rai told Goldie, 'Kalyanji-Anandji will do the music for our film. They like your work, they respect you, and they are very eager to work with you.' Goldie instantly agreed.
The third condition was bizarre. Goldie was listening to Gulshan Rai. He said, 'my only wish is to produce a super hit movie……..a movie which will break all the box-office records and will be known as the 'Movie of the Year'.'
Goldie was ready. He said, "I will do everything I can. I will give my 100 percent. We will make a film which will be, not only super hit, but also a film, which people will remember for the years to come." 'Johnny Mera Naam', under Goldie's direction, was going to be only the second film after Nasir Hussain's 'Teesri Manzil', not to be produced by 'Navketan Films'. Dev Anand was not in 'Teesri Manzil', but he was going to star in 'this' film. To make a successful, super hit movie, for solidifying Gulshan Rai's position as a renowned film producer in the film industry, was a huge task for Goldie. Also, Dev Anand was in his late forties, nearing his fifties. To play a young hero, despite being slightly older in real life, was a big challenge in front of Dev Anand.
As far as Hema Malini was concerned, at that time, this film was a big project for her, amongst other five, after her recent successful film 'Sapno Ka Saudagar', in which she starred opposite Raj Kapoor. Because she was casted opposite Raj Kapoor industry had big hopes for her and her upcoming films. 'Johnny Mera Naam' was very special for Hema Malini. The successful and talented crew of 'Guide (1965)', was together again for the making of Johny Mera Naam. She was very excited to work with Goldie and Dev Anand. The success of 'Johnny Mera Naam' would help her to become one of the leading actresses in the film industry, at that time.
Persuading Rajendra Kishan to write songs was a huge responsibility ahead of Kalyanji Anandji. The song 'O Mere Raja' from 'Johnny Mera Naam' had some very exciting moments in the making of it, about which Anandji Bhai loves to talk about. He said, "Rajendraji was ill that time. Many days went by, but we didn't get the song, so Kalyanji Bhai told me- Let's go and meet Rajendraji. We will ask him whether he has completed the song yet or not. We can also check on him about his health as he is ill from the past few days."
When they went to Rajendraji's house, they found out that he was very happy and merry. He said, "Here, have some sweets". Surprised, Kalyanji-Anandji said, "We came here to check on you about your health, and you are offering us sweets!" Rajendraji told them that he had hit a 'jackpot' after many days. He was offering them sweets because he had won the jackpot. Rajendraji was a fan of horse-racing and so was Kalyanji Bhai.
The two brothers were very happy. "Amazing first stanza. How did you think of this?"
"My jackpot is saying this to me- I was late alright but don't be mad at me." Rajendraji answered.
Kalayanji asked, "Okay, when should we come to hear the next part?"
Rajendraji replied, "The next part is ready. In the first stanza, the jackpot said to me- 'वादा तो निभाया' (I kept my promise). In the next part, I am saying to him- 'इंतज़ार की इक इक पल का बदला लूंगा, ये ना समझना आज भी ऐसे जाने दूंगा' (I will take revenge of every single minute, you kept me waiting…..don't think that I will let you go easily today…)"
And this is how, the song was created, in which the young beautiful Hema Malini sings about love, with Dev Anand. This scene starts on the Nalanda station and subtly transitions into the song. Goldie shot this song and he gave a major role to the bag which contained the precious diamonds inside it.
Hema Malini, while being nostalgic blushingly tells, "I was sitting on Dev Sahab's lap in the cable car and suddenly the cable car stopped in the middle as the electricity went off. We two were sitting there like that for almost an hour. I was feeling embarrassed but Dev Sahab 'analysed' the awkward situation, broke the ice, and started chatting with me about my friends and family and relatives. He instantly made me comfortable in that awkward situation."
This film proved important for one more actor. Premnath was a fading star. His film career was as good as finished. He had almost no films of his, lined up, and he wasn't interested in making a return. Goldie convinced him otherwise- he offered him a role of a whimsical and an unorthodox villain. From this film onwards, the known-to-all 'image' of the villain changed, a new type of villain was introduced, and Premnath made a powerful comeback, doing important character roles and performing the villain in the films which released afterwards. 'Johnny' lent a friendly hand to Premnath too. Premnath, while performing in this film, has taken some pauses so unpredictably, that they have now become legendary. The scenes where he converses with his older step-brother are the highlights of this film.
Bhupinder Singh asks Ranjit (Premnath), "इस में मेरी क्या गलती थी?" (In all this, what was my fault?) Ranjit answers, "तुम्हारी गलती ये थी, के तुम एक बहोत अच्छे आदमी थे. और मेरी हर गलती इसलिए नज़र आती थी, के वो तुम में न थी". (Your fault was, that you were a very nice man. And every mistake I made was always visible to everyone, because you didn't make any). This dialogue is a prime example of excellent writing. The place where this scene takes place, Ranjit's anger, his cruelty, we can notice everything in this scene. At the end of this scene, we see that Ranjit's cruelty and ruthlessness has no limit. He says, "तुम कैसे जान सकते थे एक रईस आदमी की फितरत क्या होती है? एक पैसा उडाने की चीज़े है और जवानी, अय्याशी का एक खूबसूरत मौका है." (How would you know what is the nature of a rich man? He can spend his money on anything, and youth is a beautiful opportunity for spending money on anything and everything).
With amazing dialogues like such, Goldie created a unique aura around the character of 'Johhny'.
The story of Pran Sahab's involvement in this film is rather 'dramatic'. Goldie went to meet him, because he dearly felt that Pran Sahab should work in his film. Pran Sahab checked his dates and denied the offer because he had a tight schedule and hence, was unavailable during the dates of the shoot. Goldie respectfully accepted his denial and left. When asked by Gulshan Rai regarding the same, Goldie answered, "He doesn't have any dates to give us. He is unavailable. He showed me his diary. Now, tell me, what should have I done in this situation? I will ending up wasting both his and my time and the result will be zero". Gulshan Rai became restless.
Here, Pran Sahab thought- "When I said I have no dates, this man didn't react at all. He just left. This man seems clever. He does not believe in 'fake begging'. He already told me that he needs me for his film. I must give him the dates."
Pran Sahab willingly became ready to adjust his dates, and finally became a part of 'Johhny Mera Naam'.
The biggest challenge was to be faced by Gulshan Rai. Upon the advice of an astrologer, he had changed his company name to- 'Trimurti Films'. He organized a competition regarding the logo of the company. He received countless entries from people all around the country, and finally selected a logo which had the three gods, 'Brahma, Vishnu and Mahesh' in it. The winner of that competition was given a big award. With the 'help' of this logo, Gulshan Rai produced films like 'Joshila', 'Deewar', 'Trishul', and in the next few years, his son- Rajeev Rai produced films like 'Tridev', 'Gupt', 'Mohra' which were very successful at the box-office. The success which Johnny Mera Naam earned in 1970 on the big screen is nothing compared to the success it earned during the last 50 years on the small screen or on the TV screen.
'Johnny Mera Naam', a film which had plenty of characteristics and positives, was released on 11 November 1970. It clashed with some of the other big movies of that year. That year, Raj Kapoor's 'Mera Naam Joker' flopped severely but 'Johnny Mera Naam' was a blockbuster that year. After all these years, no one talks about 'Johnny Mera Naam' besides its success at the box office. 'It was the blockbuster film of 1970'- only this much is said about the movie. No one speaks about how good it is cinematically. Unfortunately, it could not go beyond 'It's a super-hit movie'. Therefore, it is crucial that we take a look at the cinematically strong points of this film.
'Johnny Mera Naam' has a huge influence on the famous director, Shriram Raghavan. He recollects the time when his father took him to Vasant Talkies in Pune to watch 'Johnny Mera Naam'. Shriram was a young kid that time. He was amazed upon seeing this film and after all these years, he loves 'Johnny' as much as he loved it the first time. Shriram Raghavan has paid a tribute to his favorite film 'Johnny Mera Naam', through his film 'Johnny Gaddar'. Goldie (Vijay Anand) is one of the favorite directors of Shriram Raghavan. He can chat with anyone on 'Johnny Mera Naam' for hours.
Goldie brought something new and different in front of the audiences with the characters in 'Johnny Mera Naam'. We saw Hema Malini in a unique, glamorous form. (The recently deceased Oscar-winning costume designer Bhanu Athaiyya had designed all the dresses which Hema Malini wears in the film.) The various colorful 'sarees' worn by Hema Malini became the style statement of the 1970s. When Hema Malini expresses her love for Johnny in her beautiful black saree on the red-brownish background of Nalanda/Rajgir, even the cops chasing Johnny are taken aback, along with him.
Along with Premnath and Pran, Jeevan and I. S. Johar too shined in their respective roles and were memorable to the audience. (Pahile Ram, Duje Ram and Teeje Ram- these three comic roles were performed by the same actor and according to some people, this 'stunt' is considered as the 'answer' to the three powerful stars of 'Mera Naam Joker'.) Padma Khanna, along with her small role and her mesmerizing cabre dance on the song 'Husn Ke Lakhon Rang', was loved by everybody and with this role; she broadened her image of a talented Bharatnatyam dancer. Needless to say, she had worked very hard for this. Along with all these, Jagdish Raj who plays the mischievous police officer who often drools over the romance between Johnny and Rekha in Nalanda, also pleases the audience.
Goldie wrote a unique screenplay for this film. Through the audiences' perception, the climax changes according to the scenes and sequences as they proceed forward- this factor is a special characteristic of 'Johnny Mera Naam'. The screenplay is so tightly written that the climax is unpredictable which is rare in Hindi movies. The 'tradition' of bringing each and every character together in the climax began from this film. This was a type of film where all the opened subplots were strictly required to be tied together at the climax. All questions must be answered, no question should remain unanswered or else the audience won't like it, and especially they won't like the climax. But Goldie has tied everything neatly in the end, paying attention to every detail. Goldie's journey from the 'sensitive and sensational' director of 'Guide' to the 'commercially successful filmmaker' of films like 'Teesri Manzil', 'Jewel Thief' and 'Johnny Mera Naam' is truly exceptional, and this journey placed him among the legends of the Indian Film Industry.
Shooting breathtaking songs and related sequences was Goldie's specialty. It continued during this film too, rather we can say that it went a step ahead. People loved Dev Anand from the song 'Pal Bhar Ke Liye' and eventually it became famous as the 'window song'. A set of windows was specially built for shooting this song. Goldie had provided ample time to the art director T. K. Desai for this and at the same time, gave importance to his creativity as well. A serious dialogue takes place just before this song and Goldie has converted the serious atmosphere into this beautiful song very subtly. The tonal change is applause-worthy. T. K. Desai's assistant and legendary art director Mr. Subhod Guruji recollects the memories attached to the making of this song and while telling us the story, he transports us directly to Mehboob Studio.
"One day, Goldie arrived on the set in the morning. The set of Rekha's (Hema Malini's character in the movie) house was built. The coloring of that set had commenced. Goldie said- 'There are some changes to be done here.' He told a crewman to draw a line on the outer side of the set on the floor and then he walked along the line mumbling '1,2,3,4' and told us about the windows and how exactly he wanted them to be. Everyone realized that this is something different. But this work was going to be a bit time-consuming".
Subodh Guruji quickly informed Goldie that the set is ready. If we have to carve windows in it and that too, so many, then we will have to work again from the first step. Guruji and Goldie both knew that the assigned work will be completed 100 percent. The main challenge was the time required to rebuild everything. "Take as many hours as you want. Call me once the set is ready", saying thus, Goldie left the set. He arrived, only when the set was ready, completed the lighting and shot the song in one day.
Guruji recollects- "He confirmed the position of every window based on the numbers '1,2,3,4' that he counted while walking along the line and that did not change at all. That positions were fixed then and there. All the positions of all the windows were fit in his mind and that is how he shot this song."
Mixing two different emotions into one song and letting the mixing 'process' be subtle was the specialty of Goldie. This is more than evident in 'Johnny Mera Naam'. 'Govind Bolo Hari Gopal Bolo' is actually a morning prayer or a morning psalm, but in the movie it plays at such a situation, when the audience is scared. The audience is scared about two things, the first- whether the girl, who is kidnapped, will reach her parents safe and sound or not and the second- Johnny is not in the song, so, will he catch Rekha and Moti. Taking this atmosphere of 'fright' into consideration, Rekha sings this song wearing 'Saint Meerabai's' clothes and she subtly links the fright and the devotion towards god in this song. Goldie does this subtle juxtaposition in almost every song of his films. 'O Mere Raja', 'Husn Ke Lakhon Rang', 'Babul Pyare', 'Pal Bhar Ke Liye', 'Nafrat Karne Valo Ke Seene Mein Pyaar Bhar Du'- all these songs have that 'multiple emotions' element in them. We can say that Goldie tests his audience on the basis of their 'emotional quotient'.
'Johnny Mera Naam' earned three Filmfare awards. Goldie won the award for 'Best Editing' and 'Best Screenplay'. I. S. Johar won the award for 'Best Actor in a Comic Role'. It seemed then and it seems now that 'Johnny Mera Naam' was way above the awards and accolades. It was like a cinematic checkpoint or a cinematic achievement for Indian Cinema in the 1970. From 1970 till now, the audience has watched 'Johnny Mera Naam' on television, countless times and they have praised it after every single watch. In the film, whenever Hema Malini arrived on the screen on a Sunday morning on 'Rangoli', singing 'O Mere Raja', each and every person watching then, stopped drinking his tea for a brief moment and enjoyed Dev Anand's reaction on it. The song 'Pal Bhar Ke Liye' became famous as 'The Window Song'. Even now, some people watch and enjoy the song 'Husn Ke Lakhon Rang' with a sly, cunning smile on their face and their eyes wide open in awe!
"तो आपने क्या हमको चोर समाज रखा है?" (Do you think I am a thief?)- the man who utters these words, the undercover cop, the secret agent of a secret service- Johnny is now 50 years old! Congratulations to him on his 50th birthday!!
Milind Damle practices cinema while being a faculty at FTII Pune,his alma mater since 2004.A National Award winner,Milind also practices Film Editing in Regional Indian Cinema. A Doctoral Scholar at the Tilak Maharastra Vidyapeeth,he is working in films by Vijay Anand.