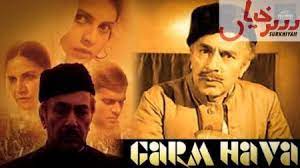 Perhaps no other movie ever could fit-in so perfectly in our Indian milieu of existing days as Garam Hawa, a 1973 presentation, same year when Shyam Benegal had tried his hands on a new turf in Hindi with New Wave Cinema. 'Garam Hawa' in itself was to set an example of an Avant Garde attempt. MS Sathyu, the Director, had shed all the trappings of 'Masala Movies'. His style was new and innovative. His method was not strictly experimental but it was radical and unorthodox. It was then in its nascent stage that was to later bloom into Parallel Cinema. For him, it was a small yet conscious step. Many connoisseurs of good cinema call it a Pioneering step towards Art Cinema movement in Hindi /Urdu as was already flourishing in the works of Satyajit Ray, Mrinal Sen and Ritwik Ghatak in Bengal, and to some extent in Kerala as noticed in 'Chemmeen' of Ramu Kariat. The narrative of pathos, dilemma and disenchantment is subtle as if softly caressing a baby-sheep in the valleys of snow-capped Himalayas.
Garam Hawa is a celluloid version of a short story by Ismat (Aapa) Chughtai. The story is set in the city of Taj, Agra, in post-partition days immediately after the assassination of Mahatma Gandhi. Salim Mirza (Balraj Sahni) is the protagonist and Patriarch of a disintegrating joint family. Balraj Sahni happens to be the mainstay of the movie. The opening shot starts with the depiction of a map of undivided India. In between the titles of the Artists and Technicians, resultant ruffled feathers are shown in the form of refugees running helter-skelter, and then a Still-shot of Gandhi being shot down. The narration of the story starts with a whistling Steam Engine signalling departure. Balraj Sahni is shown waving towards the passing train. His Sister has left for Karachi along with family to join her husband who had already migrated there. He rides back on a Tonga to his factory manufacturing Hand-made shoes. The man plying Tonga (Vikas Anand) is a Muslim but wouldn't leave India because Camel-carts ply in Karachi and plying camel-cart would bring a curse upon him from deceased elders.
The Elder brother of Salim Mirza is Halim Mirza who is a Muslim League leader and wants to turn a shepherd of remaining Muslim flock in India. He vows to remain in India but clandestinely slips out of India to Pakistan along with family including his eldest son who was betrothed within the family to the daughter of his uncle Salim Mirza. Amina (Gita-Sidharth), the daughter is emotionally awaiting her marriage across the wall of the house. She has another suiter within the family, Shamshad (Jalal Agha), the son of his father's sister whom she dislikes. Then suddenly, her Fiancé arrives unannounced without Passport or Visa. Salim Mirza, a man of Principles, warns him to record his unofficial arrival at the local Police Station, the next morning which he doesn't obey though. On suggestion of Amina's mother (Shaukat Kaifi), arrangements are made for a speedy and quiet marriage but the Police had got the sniff. They come and apprehend him to be deported back to Pakistan. Amina now had little option but to accept the proposal of Shamshad. In the background meaningful Qawwali by Aziz Ahmad Khan Warsi & Brothers, on a family visit, he was telling her how Mehrunnisa had let the other pigeon fly in air when Prince Salim had asked her about the second one, and Amina immediately holds the hand of Shamshad that she would not let the other pigeon fly. All artistically done. Also, there is Top shot very sensitively picturised when Shamshad seduces Amina in a boat in the river behind Taj, the symbol of immortal love. Cinematography is by Ishaan Arya and Editing by S. Chakraborty. Music is by Ustad Bahadur Khan without being intrusive to narration.
Salim Mirza wanted to raise Bank loan to meet a Big Order from a Sindhi trader, Ajmani (AK Hangal) but fails because no one, not even the old reliable local Hindu moneylender, would risk their money on account of regular discreet escapades of Muslims to Pakistan. To make the matter worse for him on couple of occasions always arrives, the husband of his own sister and father of Shamshad, played by Yunus Pervez in a grey character. He too leaves India surreptitiously with family leaving Amina crestfallen. Her elder brother had also left for Pakistan with family earlier because he could not adjust with the Principled life of his father, Salim Mirza, who had even failed to get the ancestral Haveli transferred in his name from his elder brother while leaving India for good. The father had also once not shown approval to his act of gaining contract by greasing the palms. Bribery is an evil in itself but is also simultaneously, a remedy to many evils. Truly, money makes the mare go. The Haveli was confiscated by the Custodian and sold to Ajmani with the connivance of his Munim (Kimti Anand). In comparison to him, the Hindu Munim of Salim Mirza was loyal and his sympathizer to the last. Salim Mirza shifts to a smaller house of a non-Muslim on payment of three months' advance, much against the norms. Haveli is used very sensibly as a Metaphor to the lives of fleeing Muslims and of those, still persisting with land of their forefathers. An interesting character is Amina's Paternal Grandmother who still cherishes the winters of her wedding-time and would not budge from the Haveli desiring to die in the house of her husband.
In the new house, Amina cuts vein of her wrist and dies. A shattered Salim Mirza finally breaks down before the circumstances and decides to migrate to Pakistan because his youngest son played by Farooq Sheikh had incessantly failed to find a job. Salim Mirza realized that chasm between the two communities had been carved deep and like many other Muslims, no future lies for him in India anymore. What could a person do who would greet his Hindu compatriots with Ram-Ram, yet an ordinary Hindu Tonga-wallah would ask him for rupees Two against standard fare of just eight anna and at his remonstration, had the gumption to tell him to 'Go to Pakistan' if he were to travel in eight anna. While Salim Mirza, his wife and youngest son is on way to the station for catching a train across border, they get obstructed by a passing youth procession under Red Flag. The young son quizzingly looks towards his father who allows him to join the protesting youth. Salim Mirza himself asks the Tonga-wallah to take a U-turn and return to their house. The message is loud and clear. Post-Partition plight of Muslims is shown poignantly without being over-dramatic. A satirical punch is more valid now and it must be re-visited again even by those who have watched it earlier. The film was India's official entry to the Academy Awards under Best Foreign Film category. It was also nominated for Cannes Film Festival. And most deservingly, it won a National Award and three Filmfare Awards.