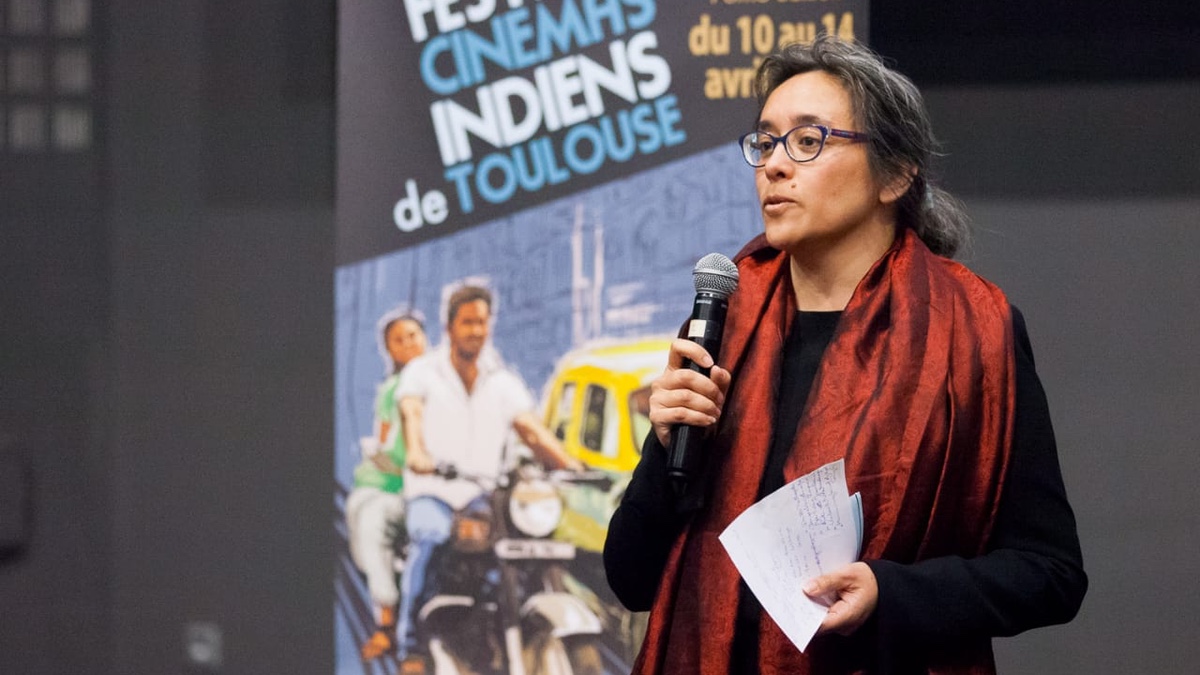 1. Please introduce yourself…..
My name is Vanessa Lien Frederique BIANCHI, I'm French, from Italian and Chinese-Vietnamese origins.
I studied first literature and stage theatre, worked till PhD level on historical/political plays from the European 18th century. Then I started to work on visual arts and especially cinema.
Working on Indian film industry came long after literature and almost by coincidence.
I am an all-rounder type: many interests on several topics, very active in different subjects. I worked for education, justice, youth… Jumping from one field to another endlessly and most of all, working on a cross cultural approach. I like to draw new paths and links between one topic and another…
2. What draw you towards films??
When I was a young adult, I watched a lot of films every week yet deep interest in cinema came long after. I was used to go the stage theatres, opera houses, exhibitions, performances and cinema was simply in the list. When I was a child, I didn't go often to film theatres and enjoyed more reading, writing and drawing. At this time, film was taking too much place in my mind, I preferred books because I could create my own images, imagine my own stories. Receiving somebody else moving images was disturbing.
Then, I got interest in documentaries and then it helped me a lot to feel good in films universe.
Like every French person or almost, I am a film lover anyway, watched so many films, foreign and French. As a young person I watched so many cult films without thinking they were cult films. We had a TV program on a national channel, late at night, named "ciné club". So many French film lovers were used to watch films and record them on video tapes. That's how, for example, I discovered Satyajit Ray…
What makes me a film lover is how I expect films to help me to understand our contemporary world, even with a period film.
3. How did you plan a Film Festival??That too on Indian Films??
Except for Satyajit Ray, I knew almost nothing on Indian cinema. One day a friend lends me a Bollywood film. I was astounded; it was so different from what I already knew in cinema. From this moment I started studying Indian cinema in French culture landscape. It was so interesting, I was so eager to understand why there were no Indian films in French film theatres that I wrote an essay on it. Then I decided to study why some spectators were so fond of Indian films (especially Bollywood), at this time it was a big challenge to find Indian films to watch in France, it needed a strong motivation.
Then, I started watching Indian films, mainstream, indie, I liked it so much that I decided to organize Indian films screenings to observe by myself and share with other spectators. With a small team, we founded Toulouse Indian Film Festivals and here I am… 😉
4. What is the relevance of Film Festivals today??
For so many years I didn't like film festivals. At this moment, France was the biggest country regarding numbers of film festivals. In my mind it had a strong connection to establishment, glamour, red carpet, waste of money, and this elitist "entre-soi" [self segregation] which never attracted me.
Then, one day I discovered film festivals had a very strong power. Film festivals have the power to give a chance to unusual films, to support audacious filmmakers, to echo the voices that some others want to stifle. I discovered that a film festival could be a sort of activism, something which is absolutely needed. From this moment, I changed my mind and gave a try.
5. How did France, as a country, shape your psyche as a cinephile. France being the Mecca of Cinema!!
I guess that, yes, French culture shaped my psyche, even if I was not very docile (I have never been…). I learnt a lot, for better and worse, with French culture. French culture and French schools can be very generous with you, when you want to learn, but you need to be also very demanding and to do not hesitate to go off the beaten track, take the side roads, question to exhaustion, beyond manuals and masters. Otherwise, despite this strong, amazing, dynamic culture history, in France (at least when I was young), you will be educated, yes, but encaged in a post-colonial culture.
The Mecca of Cinema as you say is very conscious about her status. Very less conscious about other cultures status and how we could all learn from each other.
I had some moments of strong and intense love with French cinema and some periods I refused to watch any of them. I have a curious love/hate relationship with cinema in France. My best memories are more often about moments of cinema than film itself. Like Sunday evening most of French families, at this time, would watch films together on national TV channels. These films were sometimes forgettable but these moments were such a strong bond between family members. We would talk about what we see on screen, sets, story, society… French establishment in cinema disdains this popular culture which is a huge mistake. This disdain shaped me as much as cinema itself. I had to unlearn it.
From the seventies approximately, starts this deep split between popular culture and film critic. Before, it wasn't so strong.
Despite my background, I never belong to this establishment and never been interested in it. This is exactly the reason why I came to film festivals so late.
6. What's your take on contemporary world cinema?? Any Personal favourites??
I think I already belong to the Past ;-). I don't have favourites. I have intense memories for a collective screening, for a film, for a Q&A with an audience; I don't have some favourite filmmakers.
After a long time where they weren't considered, genre movies are really important today. It's one good thing they're out of the closet, it's another that we're not watching something else anymore. Intense rhythm and twists seem very important today. For me, very often, it's like hiding that you have nothing to say so you play with twists, frantic and jerky rhythm, several climaxes, some camera spinning movements, and big budgets… I totally understand the audience appreciates, yet it doesn't interest me at all. What makes a film noticeable for me? Freshness, good writing, good lines, audacity, risk, and keeping in mind you shoot a film for a big screen. I prefer 100 times a filmmaker who takes risk, even if the result is not perfect than a filmmaker who practices cinema like a nice TV product. Nice package, nice story, flat image, like a Christmas decoration. Nice design and nothing to feed me. I truly believe it doesn't mean that a film which takes risk cannot get a release and meet the audience.
7. From when is your festival happening??
Toulouse Indian Film Festival started in 2013. At this moment, it was very rare to find an Indian film screening outside Paris. It was such a challenging idea! Today, Indian films are still not usual, and only about Bollywood/Kollywood releases (I have nothing against Bollywood/Kollywood by the way).
Our purpose is to help French audience and Indian productions to meet, and to show, year after year, the infinite variety of Indian film productions.
8. What is your understanding about the trajectory of Indian Films??
You mean outside India? Not so easy to say in few words. For a long time, Indian producers weren't interested in screening their productions on foreign markets. Too much cost for small benefits. At the same time French market for example didn't know a word about Indian cinema, Bollywood included. I'm not sure they know more today, however I notice both parts are eager now to work along which is a big progress.
Each time I propose an Indian film to film theatres, we discuss a lot about what they know about India, about what they expect, there are several bias on both sides.
I think, like in other film industries, you find some gems amongst a mass of very common films. I find Indian gems every year, this is so exciting!
9. The recent significant films from India you have picked up and why??
I suppose you guess it is always a very delicate question. A very difficult one. Because every year I choose very carefully each film and I think I can support each of them.
Let's say Margarita with a Straw (Shonali Bose) for this so needed sensibility, Onaatah – of the Earth (Pradip Kurbah) for its extraordinary respect for each character, women included ; Merku Thodarchi Malai/Western Ghats (Lenin Bharathi) for the neo realist painting of the labor class's oppression ; Ee. Ma. Yau. (Lijo Jose Pelissery) for the impressive quality of picturisation, the accurate observation of masculinity. Although I wish I could make a longer list…
10. What is the audience response??
Very good. Really. It's a tough job to promote Indian films on French market, film festival or not. I'm always impressed with our audience feedback. They are impressed too with what they watch on screen.
11. How do you manage the budget??
Ah ah ah. I guess we are not the only ones to struggle every year. Most of film festivals do, culture is not the priority in our capitalist economy. We are all volunteers and dedicated to Indian cinema. It's all about a "jugaar" process all year long to make it happen and we are so proud every opening night. I work a lot, all year long to find our next film selection. Thinking of how we will introduce them to the audience. It is challenging and stimulating because our purpose makes sense.
I suppose we should work more on the glamorous side, yet our first priority is to show the Indian film production huge potential.
I'm not sure it is possible to balance perfectly both sides.
12. Any future plan regarding the festival??
Of course! We are already working on it. Although with the pandemic, rhythm is different than usual.
I guess the world of culture will need time to digest the pandemic worldwide. However I am not sure this pandemic was a trigger, but rather a revealer or a developing bath (like in analog photography), and an accelerator of the changes which are taking place, particularly in worldwide film industry.
Next year, we plan a film festival after the summer, with our Audience awards and Jury awards, for both features and short films.