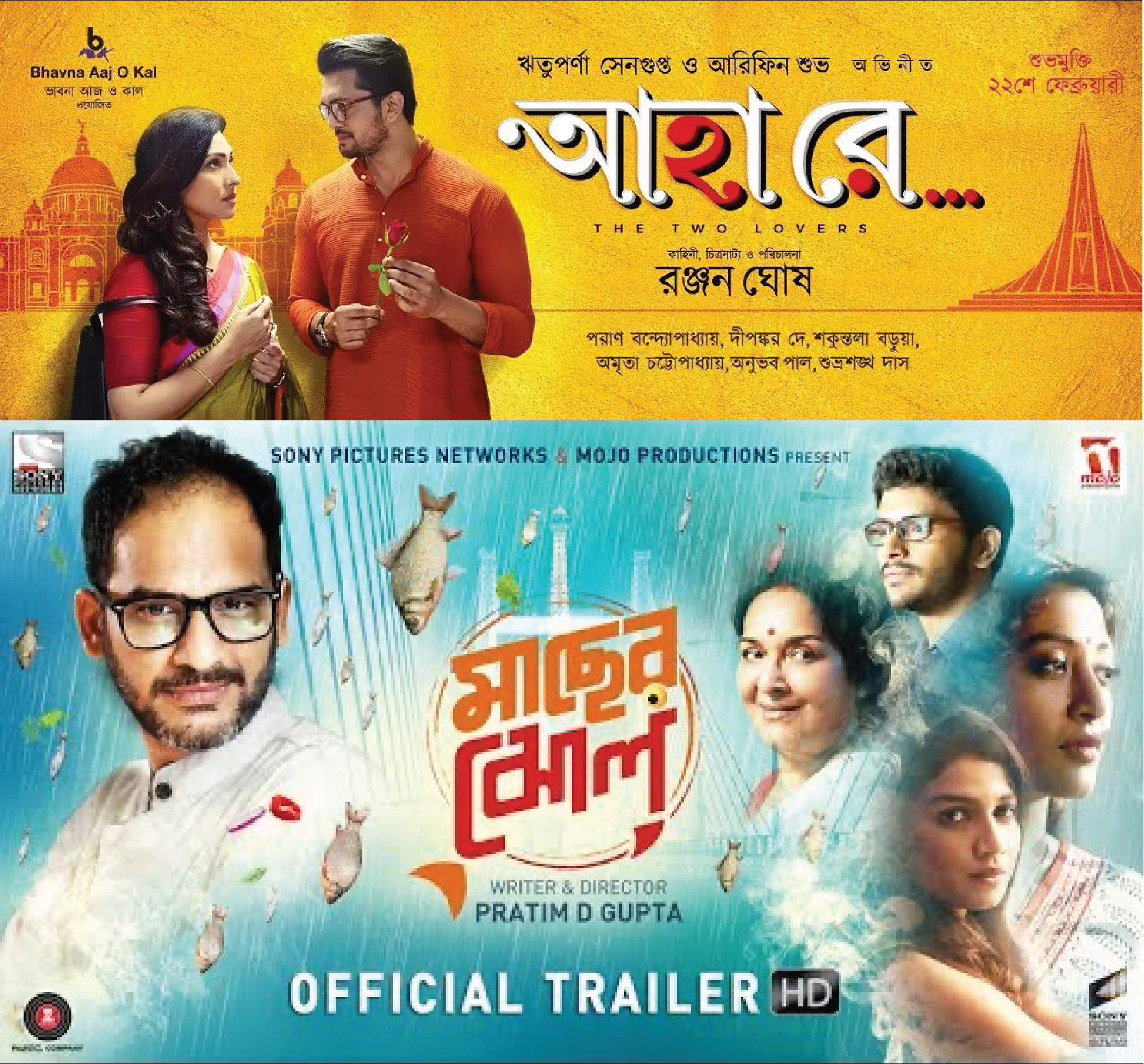 Bengal has always been famous for being the cultural capital of India as well as having a certain penchant for food. A typical Bengali meal is incomplete if it only has two elements. Even in the busiest of households, there needs to be at least four different dishes for lunch and dinner for it to even be considered a complete meal. So, when one is in search of Indian films on food, Bengal has to be the first on their list. And as expected, there has been some really interesting films with unique take on relationships and family with food at its center.
When I talk about relationship, the most revered relationship is one between a mother and her child. Whichever part of the world you go to, or whichever religion you study, there has been a significant space given to the idea of a mother, one who nurtures and nourishes and is at the center of all familial bonds. For this same reason, the mother as a nurturer ends up being widely explored in food films; more so since our introduction to food happens through our mother and we grow up eating food cooked by our mothers. Thus a woman who can cook has always been seen as the ideal woman by society and women have fought hard to remove themselves from the kitchen to reaffirm their worth outside the kitchen. The popularization of food films in recent times has completely upended these linear ideas, while others have ended up reaffirming the traditional belief systems.
Let's take Ahaa Re! (2019) and Machher Jhol (2017) for instance. Both commercially successful films with a star cast at its helm, these films put Bengali food on the global platform. And because of that reason it is interesting to dig deeper into the female characters that shape the narration of these films and whether the concept of women as a nurturer has changed or taken a new meaning in the post-modernist world.

Both the films taken for discussion have completely different theme and subject matter. While Ahaa Re! is a story of an Opar Bangla chef meeting an Epar Bangla widowed home cook, falling in love and ending up marrying each other; Machher Jhol, on the other hand, is a story of an NRI Michelin starred chef staying in France who returns to Kolkata after 13 years after he hears of his mother being hospitalized due to some serious illness. As can be noticed the two films are completely different from each other, dealing with completely different themes. But these completely different films have few recurring characters. Like Dev from Machher Jhol, who leaves for Paris despite his father being completely against it. Or Shahida, from Ahaa Re!who also leaves for Paris despite Raja or Farhaz, her fiancée not agreeing to it. Basundhara (Ahaa Re!) is a widow who has dedicated her life to taking care of her in-laws and her late husband's dream of taking their food delivery service to new heights. Sreela (Maacher Jhol), Dev's rejected past and wife dedicates her life in bringing up her only child. The two mothers in both the films want everyone to get along with each other but cannot and find themselves in similar circumstances. And bringing all these varied characters together is the city of Kolkata itself. It comes alive in both the films, which do justice to the heritage that the city holds within itself. The markets, the eateries, and restaurants, the neighborhoods that have a character of their own get featured honestly in the two films. The city without which no chef can grow.
In that sense women and city become the two nurturing elements in these two films. Without Basundhara, her in-laws would have suffered, since she was the sole breadwinner of the household. In Maacher Jhol, Dev's mother, wife Sreela, sous chef Maggie and his French girlfriend Simone all become a support system for Dev at one time or the other.
The city provides shelter and comfort for Farhaz, Basundhara's father-in-law or even Dev when they could not find solace anywhere else.
Despite this overarching similarity in character sketches and situations, the films differ in one important aspect and that is the question of morality and 'dharma' or responsibility. In Machher Jhol, none of the characters self impose morality on themselves or on others. Dev's mother does not impose the 'dharma' or the responsibility of being a father on Dev or her husband. She informs Dev of the presence of his child (which he was unaware of for 13 years) and later in the film wishes to see the two men in her life on the same side even if their ideals are not on the same side. Sreela does not expect Dev to take up the moral responsibility of being Ved's biological father. Maggie is not shunned by Dev even after she tries to kiss Dev. Neither does Dev feel like imposing his role as a father or a husband on Sreela even after knowing of Ved's existence. There is an unspoken understanding between Dev and Sreela who had been brought together by society that the presence of a child does not change their individual course of existence. Simone despite feeling like she is being neglected or being pushed away by Dev does not speak up, being patient and understanding of Dev's situation.
In direct contrast, in Ahaa Re! there is a repeated reminder of one's responsibilities and 'dharma'. As a wife, as a mother, or even as a brother. Basundhara's self-imposed exile from the real world is largely due to the fact that she feels she has transgressed against her own gender- first by deciding to abort her child without letting her husband know and second by speaking up and instigating her husband to follow her into the ocean despite him refusing to. She stays back at her in-laws house because she has a 'rִn'or 'debt' to repay for taking their oldest son away from them. Basundhara herself mentions this to Farhaz towards the end of the film when she says that she cannot have so many debts of so many people on herself. She also imposes this sense of responsibility on her brother-in-law who she rebukes for forgetting to get incense sticks that need to be lit everyday in remembrance of the dead. Farhaz indirectly reminds his mother that she has married a second time and that he will not accept his mother's second husband as a father figure. At the very beginning of the film, when Shahida first tells Farhaz her plans of moving to Paris, Farhaz reminds her how he rejected the offer of working at a restaurant in Kolkata because of Shahida, expecting her to do the same for Farhaz. But by the end of the film after Farhaz had the opportunity to see the world and understand his own self, he understands his mother's need for companionship and accepts her second marriage, but even then he doesn't extend that same courtesy to Shahida for her ambitions. And that is where Ahaa Re! as a film falters. It tries to rebel against social customs but falls into the traps of traditional expectations. As Basundhara slowly grows fond of Farhaz, she is guilt ridden and tries to deny her feelings. She vigorously tries to keep the memories of her husband alive. By putting the onus of modernity on Basundhara's father-in-law, Ahaa Re! reinforces the idea that your feelings are legitimate only if you get permission from your elders.
While there are these narrative problems and nuances in these films, as films centered on food, they do justice to the heritage of Bengali cuisine. While Ahaa Re! brings out the idiosyncrasies of the cuisines of two Bengals, Maacher Jhol is replete with shots of fish being fried and made to look pretty on a bed of rice.
The added anecdotes about the origin of various dishes of Bengal found in Ahaa Re! will definitely titillate the foodies among us, or the various colloquial riddles related to food that is intimately connected to everyday Bengali life will make anyone curious to explore the history of Bengali cuisine.Yet, the lack of same interest on the history of cuisine of East Bengal present day Bangladesh do leave us asking for more. There is also a lack of shots of actual food being cooked, other than handful of shots of Basundhara cutting vegetables and Farhaz selecting ingredients we hardly see the magic of cooking. Even when Farhaz asks Basundhara to help him learn West Bengali cuisine, apart from the initial shots of fish frying or vegetables being cooked for Shukto (bengali mixed vegetable with bitter gourd) the focus was more on their chemistry rather than the chemistry happening on the kitchen top.
In Maacher Jhol the idea was to return to a childhood dish, to recreate a fish curry that is possible for a child to make. Despite these restrictive factors there were a lot of possibilities of representing various kinds of fish that Bengalis have on a daily basis which is beyond Rohu or Katla. Even the different fish curries that Dev and Maggie try to recreate are shot identically with just the ingredients getting interchanged. The film itself is shot in a very polished way, the shots of food being cooked is also reminiscent of western style of food photography. In Ahaa Re! the treatment is completely different, the screenplay has a certain earthiness that goes with the general theme of the film which is a love storyof a home cook who is the focus of the film. And that is where as a food film Ahaa Re! is successful in creating a conversation around Bengali food which is a huge feat on the part of the director and screenplay writer Mr. Ranjan Ghosh. It took Mr. Ghosh over three years to complete writing the script of Ahaa Re! and getting to talk to him for a brief period I could understand the intense research that went through in finding the various stories and histories that have led to what we know as Bengali cuisine now.
While Maacher Jhol is a personal story, Ahaa Re! brings out the story of a community on a carefully plated dish that is the final film.
By the end of Ahaa Re! the love story between Farhaz and Basundhara might not convince us but the heritage that Bengali cuisine carries within itself that is shown in the film will definitely leave us asking for more.
Food is highly political, and has a power to convey a lot of ideas through the way it is cooked, eaten, shared and even discarded. But beyond all the sociopolitical connotations carried within food consumption, food is essentially an intimate affair that brings people and families together and like said by Mr. Ranjan Ghosh, 'It is magic and love put together.'
A graduate of philosophy and literature, Tias specialize in aesthetics and food studies. Currently her days are divided into baking and writing. And when she is not doing either, she is voraciously watching films and web series.