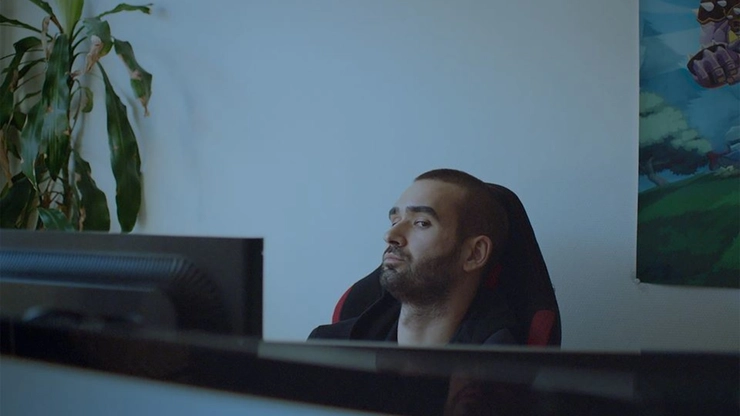 The Coronavirus has changed the nature of cinema, and even the nature of film festivals. While many festivals have been forced to be cancelled or go online, Locarno Film Festival in Switzerland, the second most famous film festival after the three major ones (Cannes, Venice and Berlin), has been forced to go online as well. This time, the festival has opened its Pardi di domani section for short films to the world, where 43 films have been selected to be screened. So, as a reclusive film critic at the small house in Tokyo, I watched all the films and posted my impressions of them on Twitter and Facebook. And now that I've seen all 43 films, I've decided to write a recap. First of all, let me present my top 10.
1. Play Schengen
2. Nha Mila
3. An Act of Affection
4. I ran from it and was still in it
5. O Black Hole!
6. Spotted yellow
7. Statul paralel
8. Retour à Toyama
9. Aninsri daeng
10. Lachsmänner
This year, animations at Pardi di domani were extremely successful, with no mediocre film. It was a thrill to watch Swiss director Aline Schoch's "Megamall", a capitalist capriccio set in the giant shopping mall, which has richly coloured animation intertwined with hand-drawn and cut-out pictures. A gentle look at the flow of time in "Ecorce" by Samuel Patthey and Silvain Monney, also from Switzerland, and the art-brut-like strangeness in "Push This Button If You Begin to Panic" directed by Gabriel Böhmer, were also exciting. Chinese director Yuan Gao's "Cloud of the Unknown" is a brilliant example of how a surreal world with acrylic realism gradually transforms from a serene daydream into a dizzying nightmare. One of the two films that stood out prominently was "Lachsmänner," directed by Joel Hofmann, Veronica L. Montaño and Manuela Leuenberger of Switzerland. The idea of using animation to depict the breeding of salmon is vivid and new. In this animation, the male sermons, on the verge of their balls exploding, run across the river and the female sermons, in mating season, perform a sensual dance. These landscapes, woven with the innocence and color of a kindergartener's crayon drawing, are light-hearted and full of laughter. Though only six minutes long, this is a film that shows the indomitable creativity of the directors.
Locarno Film Festival is well known for its support of Southeast Asian films, and this year, the festival also offers several new releases to us. Apart from the nauseating awfulness of Thai director Sorayas Prapapan's "Digital Funeral: Beta Version", they were quite good. Joanne Cesario's "Here, Here" from the Philippines, for example, has half-baked ambition, but it seems to have a poetry that is rare in this thoroughgoing realism-dominated country where Lav Diaz and Brillante Mendoza overpower the landscape. There's "Giòng Sông Không Nhìn Thấy", a film by Vietnamese filmmaker Phạm Ngọc Lân that seems to gather the country's mystique and philosophy beautifully, and "Thiên Đường Gọi Tên", directed by Duong Dieu Linh, is about the sorrow and joy of living in middle age depicted through the reunion of a woman and her first love. They are the ones that make me think about the bright future of Vietnamese cinema. But the film that I appreciated the most was "Aninsri daeng" directed by Ratchapoom Boonbunchachachoke from Thailand. During the Cold War, there was a strange tradition in Thailand that actors, regardless of who they were, would be dubbed to make the heroes look more like the heroes and the villains too. This film overlays this tradition with an examination of a trans woman's voice. As a government spy, our trans woman protagonist is tasked with honey trapping a college student who leads an anti-government protest. Disguised himself as a cis-gay man, she gets closer to him but finds herself drawn to him beyond her job. And in this romance, the trans woman's search for dignity and love through her own voice is executed in an exquisite way. It's a very Thai film, and this locality is what makes the film so interesting.
Two films by young filmmakers with Japanese roots have been selected this year. Neo Sora, an American-Japanese filmmaker who studied filmmaking in New York, debuted his new short "The Chicken," an adaptation of Naoya Shiga's "The Afternoon of November 3rd," set in not Japan, but New York. His film is imbued with a fresh ambition that consists of cutting-edge anachronism and subtle modernity, and it heightens the insight into bioethics that was present in Shiga's book. And Hirai Atsushi is an up-and-coming filmmaker who makes films both in France and Japan, while he is an earnest disciple of Damien Manivel. And his film "Retour à Toyama," which I made into my Top 10, shines a rare light today's Japanese cinema rarely has. Depicting the emotional wanderings of a young man who returns to his hometown in Toyama from France, the film highlights the rich beauty of everyday life in Japan. Considering the fact that both of these men are studying about films abroad and that Japan has historically been an inward-looking country, we hope that they will be the future of Japanese cinema as an outward brightness
Some Eastern European films were also selected for Locarno, but their result differs drastically. "Kako sam pobedio lepak i bronzu", directed by Serbian Vladimir Vulević, was a lazy piece of crap that mistook "yawning" for "ambitious". Hungarian director Kölcsey Levente's "Szünet" is a film that seems to have been influenced by the Zen realism of Romanian cinema, rather than the spectacle of Béla Tarr's and other Hungarian films, but it fails to control that influence, winding up being a mediocre film. However, Romanian director Octav Chelaru's "Statul paralul" stands out from the rest. With its Zen-like long-takes, deadpan black humor and deep insights into professional ethics, it stands as a legitimate successor to the "Romanian New Wave", reminding me of the excitement I felt when I first saw Corneliu Porumboiu's bodacious masterpiece "Polițist, adjectiv".
The aforementioned Eastern European films were dominated by realist films, but of course the fantastical films, complete opposite ones, also made the cut. However, the quality is not so good. "The End of Suffering (Proposal)", directed by Jacqueline Lentzou of Greece, is a strange film about a panic-stricken girl who receives a message from outer space, but it's essential dialogue with the universe is so mediocre that it fails to stand out from fake philosophy. Finnish director Sawandi Groskind's "Where to Land," a film about the wanderings of an elderly woman who loses her voice and an African immigrant, is surely bizarre although it feels like it never really gets off the ground. One of the exceptional films among them is "Spotted Yellow" directed by Baran Sarmad from Iran. A woman with a yellow bruise on her face develops an obsession with a giraffe in similar patterns. With sorrowful humour and sophisticated cinematography, the director richly depicts the woman's wistful obsession rooted in her loneliness. This film has a distinctly different style from the realist-oriented Iranian contemporary cinema just like aforementioned Philippines.
And I wrote earlier about the magnificent rise of the animation, and the film that could be considered the pinnacle of this rise is "O Black Hole!" directed by British director Renee Zhan. The story is about a woman who is in despair over the cruelty of time and transforms herself into a black hole in order to transcend it. This is truly a terrific epic about life and death spun in just 15 minutes. After watching all the films in the Pardi di domani, I'm convinced that this is the most technically mature, breathtaking short film I have ever seen in Locarno.
This year's selection includes three films that depict Black lives in the United States. In "The De Facto Martyr Suite," directed by Justine de Gasquet of Switzerland, a man imprisoned for more than thirty years talks about the struggles of Black lives and the martyrs of history. And yet, while his subject's words are powerful and profound, the director's collection of footage doesn't have an equally impactful aesthetic to match with it. Directed by American directors Pat Heywood and Jamil Mcginnis, "Gramercy" is about a depressed young Black man who returns to his hometown to reunite with old friends. But the poetic imagery is nothing short of frivolous, and I found myself thinking that this is made by Terrence Malick wannabe. Among them, the film I appreciated the most was "I ran from it and was still in it" directed by Darol Olu Kae, an American director. It is a powerful film about the joys of being a father and being a Black in America. The director combines a home video left to him by his late father with footage of Black history to create a highly personal, yet historic cinema. It's no surprise that this film won Best Picture in the Pardi di domani.
The Pardi di domani was unusual in that it featured documentaries in the same proportion as fiction films, but the film that stood out the most was "An Act of Affection", directed by Vietnamese director Viet Vu. After immigrating to Portugal, the director meets a middle-aged gay man in Lisbon. This film depicts an evening he spent with him, and the intimacy between the two was so surprising it seems only in documentary is it possible to get so close to a subject and immerse the camera in his or her soul. I would like to conclude by saying that the director's gentle caressing of the sleeping man's head was one of the most tender and beautiful cinematic moments of the year 2020.
Pardi di domani is divided into two sections, the international and the Swiss section, and I was struck by the abundance of the Swiss section. In addition to the aforementioned "Ecorce", "Push This Button If You Begin to Panic" and "Lachsmänner", I was also surprised by Alexandre Haldemann's "Um tordo batendo as asas contra o vento" which has bizarrely-shot, apocalyptic and galaxy-blessing moments, Tristan Aymon's "Trou noir", a charming portrayal of youthful melancholy, and "Menschen am samstag" by Jonas Ulrich, winner of the Best Picture in Switzerland, are extremely impressive in the line-up. But "Nha Mila", a Swiss-Portuguese co-production by a Cape Verdean director Denise Fernandes (which might mean Switzerland's multi-raciality and multi-nationality), is a true masterpiece. A Cape Verdean woman meets a cleaning lady at an airport in Portugal who mistakes her for a childhood friend, going to her house. Fernandes captures a simple but rich nostalgia for Cape Verde and, like Robert Bresson, makes the film sublime and divine. There's rare, raw warmth in this film which I was wholeheartedly moved by.
And my No,1 film of the year for Locarno was the Norwegian Gunhild Enger's "Play Schengen". It's a portrait of the trials and tribulations of people trying to develop a children's game based on the Schengen Agreement in the EU. Its idea is so alluring from the first place, but director Enger turns it into countless laughs with exquisite pauses and chillingly deadpan humor. It's a true 2020's comedy that makes fun of the turmoil in the EU caused by the UK's declaration of withdrawal from the EU (it's also important to note that this film was made by a filmmaker in Norway, which chose not to join the EU).
I ran through all the 43 films in Pardi di domani section. As a film critic, it was a uniquely stimulating experience to see all the films in this category without going to the festival. I wonder if this format will continue next year but I'm totally open to the possibility, so I'll end this article with the hope that this format partially survives for cinephiles and critics who can't go to the spot, even if the festival is held in person. See you next Locarno!
Tettyo Saito is a Tokyoite film critic and editor-in-chief in Japanese film magazine Z-SQUAD. He writes on film for international magazines like Kinema Junpo, Camera Lucida and Duart. He is also a novelist in 3 languages; Japanese, English and Romanian.