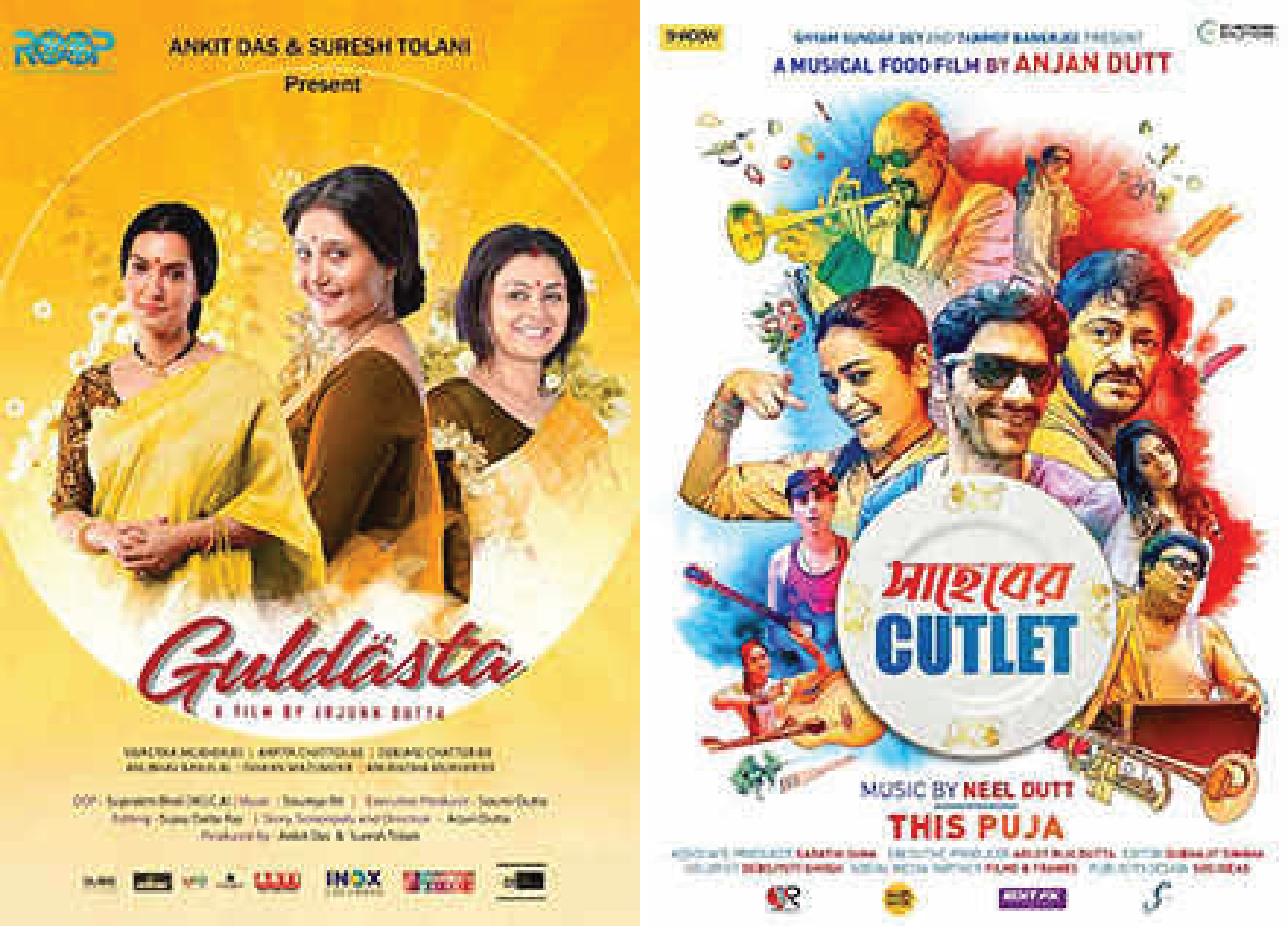 Saheber Cutlet
After a gap of seven months Bengali films are at last releasing during the on-going festive season. The deadly pandemic has led to the closure of all cinema halls. But the unlock process has led the Government to take the decision of opening of cinema halls again. A number of Bengali films have released during this period. But the film that has grabbed my attention is" Saheber Cutlet". It is primarily because the film has been directed by Anjan Dutta, one of the renowned film makers of contemporary times.
Anjan Dutta, a protégé of the acclaimed film-maker Mrinal Sen, made his debut as an actor in 1981 in the movie "Chaalchitra". It was followed by a number of films which were offbeat and critically acclaimed. Some of his movies as an actor were "Kharij", "Griha Juddha", "Antaheen", "Yuganta", "Shilpi". It was in 1997 he made his debut as a director with the Hindi movie "Bada Din". It is this stint as a director which brought him fame and recognition. Prior to his stint in direction, he was popular among the Bengalis as a singer and actor. Although his first venture as a director was in Hindi, yet after that he directed a number of Bengali movies. Some of these are-"Bow Barracks Forever", "The Bong Connection", "Chalo Let's Go", "Madly Bengalee", "Ranjana Ami Aar Ashbo Na", "Dutta Vs. Dutta", "Ganesh Talkies", "Hemanta", "The Bongs Again", "Ami Ashbo Phire", "Finally Bhalobasha". Apart from these movies he has also directed a number of movies based on the investigations of the famous Bengali fictional detective Byomkesh Bakshi. During this period he has also appeared in a number of Bengali movies as a character actor.
The latest offering of this famous director is"Saheber Cutlet". Anjan Dutta has tried to make a food musical. In parts it has been designed as an opera where all the actors sing their own songs, no playback. The story of the film is simple. Ron (Arjun Chakroborty) has lost his job as a chef. But he dreams of opening a café in France. He has another option of working as a chef in Goa. But he dreams big and wants to go to France. The lady-love of Ron (Anindita Bose) supports him and tries in her own way to achieve his dream. Ron has no other option but to sell the palatial building in Chandannagore that he has inherited from his grandfather. But the problem is that the building has been illegally occupied by a family of "refugees" who are living there for more than 20 years. The promoter has provided a lawyer (Kanchan Mullick) to help Ron. However the lawyer proves to be a good-for-nothing fellow. The family of the "refugees" is adamant and they refuse to vacate the house. Some legal problems forced Ron to live in that house for more than one day. The house has also been described as a haunted house by its occupiers. In the night Ron meets a mysterious character (Anjan Dutta), who describes himself as a teacher, a magician, and a circus- worker. It is this character who inspires Ron to open a café in that house till his legal matters are sorted out. Ron takes the members of the house into confidence and opens a café there. However the elder son of the family (Suprabhat) proves to be an impediment in the path of Ron. Nonetheless the head of the family (Sumanta Mukherjee) along with his daughter (Sritama Dey) and younger son agree to help Ron. A love relation develops between Ron and the girl. It leads to a situation where the character played by Anindita Bose refuses to be a part of this endeavor of Ron. 
An entertainer the film is sure to have an impact upon the audience. The acting of all the actors is excellent. But the person who stands above all is Suprabhat. As the ruffian with a golden heart he is superb. In fact he has also proved his mettle in Dutta's earlier movie "Finally Bhalobasha". Apart from him Arjun Chakroborty has given a convincing performance. Kanchan Mullick and Ambarish Mukherjee, as usual, are a delight to watch. The rest of the cast are good. Anjan Dutta, in a small cameo, has done a good job. What works for the film is its music. Outstanding songs have been composed by Neel Dutta. The songs "Khawoar Gaan" ,"Aei Jibone" and "Ja Kichu Korbe" are bound to strike a chord with the audience. What works in favor of the songs is that they have been sung by the actors themselves and almost all of them are not professional singers. According to Anjan Dutta apart from the usual mixing process the music director did not use a pitch corrector. Ambarish Mukherjee has melodiously sung old Bengali hits which is a sheer nostalgia. The direction of Anjan Dutta is memorable. The cinematography by Tiyash Sen is commendable. Choreography has been done by the director himself.
However there are some negative aspects to this beautiful film. The film is a bit lengthy and some incidents are repetitive. Anjan Dutta's character is too sketchy. The climax could have been much better. In spite of these, it is a feel-good film. In this turbulent time this movie is bound to appeal the audience.  
GULDASTA- A REVIEW
Along with some other prominent films, Guldasta is a major Bengali film that released during the Durga Puja. In English, Guldasta means a bouquet of flowers. The film has been directed by Arjunn Dutta. It is his second directorial venture after ABYAKTA. Like his previous film, GULDASTA is a pure cinematic gem.
Arjunn's debut feature Abyakta centered on a woman protagonist played by Arpita Chatterjee. This movie is no exception. It centres around three women. But the main woman protagonist of this film is Swastika Mukherjee, who plays the role of Dolly Bagree. It is her interaction with the other two woman protagonists that sets the tone of this movie. The first character has been played by Arpita Chatterjee and the second character has been essayed by DebjaniChatterjee. Srirupa(Arpita Chatterjee) is a house-wife who lacks confidence and can't speak the truth boldly. She suffers from anaemia and remains cold and meekly submits herself while having sex with her husband. Naturally her husband (Ishan Mazumdar) gets attracted to a younger colleague (Anuradha Mukherjee). The other woman Renu( Debjani Chatterjee) is happily married. Her husband (AbhijitGuha) works in another place and occasionally comes to his home. But Renu has her own problems. She has a nagging mother-in-law. Moreover, it is her son (AnubhavKanjilal) who proves a headache to her. His son has got weary and is into drugs. He suffers from mood swings and does not want to communicate with his parents. Now, enters Dolly Bagri to sell products of her company. She befriends both the woman by her simplicity, friendliness and camaraderie. In course of time she solves the problems of both Srirupa and Renu. Both of them start to look at life from a new viewpoint. Dolly is a woman who always looks at life with a positive attitude. She instills confidence in Srirupa so that she is able to face her husband. Moreover Dolly helps Srirupa to start dancing again. When Renu becomes critically ill because of her son, it is Dolly who helps the son to come back to the mainstream. Dolly paints a positive picture of her domestic life before the two women. But one day Dolly goes missing. While searching her two women faces a harsh reality. Dolly's domestic life is not a bed of roses but full of thorns. She has an ailing husband and she is abused by her daughter-in-law. Inspite of this entire traumatic situation she takes life positively and inspires people. On 25th December she comes to Srirupa's home with a bouquet of flowers to wish her on her birthday. She is smiling but deep in her heart she suffers from an intense pain.
"Guldasta" is undoubtedly one of the better Bengali films that released during the Pujas.Arjunn Dutta has done an incredible job. But it does not rise to the level of Abyakta,though. Expectation was high among audience after his debut film Abyakta which participated in various film festivals. Nonetheless Dutta has given us a film that will be remembered for its story- telling and superb acting. Swastika has given one of the finest performances of her career. The last scene is outstanding, where Swastika gives "Guldasta" to Arpita with a smile in her face but deep in her heart she suffers from an intense pain. That scene will haunt you for a long time to come. Arpita and Debjani acted quite well and they have done justice to their characters. Anubhav, who delivered a fine performance in "Abyakta" has a very small screen- time this time. The cinematography of Suprotip Bhol is noteworthy. In short, "Guldasta" is a film that will touch your heart and will inspire you to give women their due place and respect in our traditional Indian society.
Arup Sen is an Associate Professor in the Department of Political Science, Maharaja Manindra Chandra College. Alumni of South Point High School, Kolkata, he has done his graduation from St. Xavier's College. A post- graduate from Calcutta University, he has obtained his M. Phil. degree from Jadavpur University. He has written a number of books and has published articles in reputed journals. An avid fan of films, especially Hindi Films, he loves watching films of any genres.