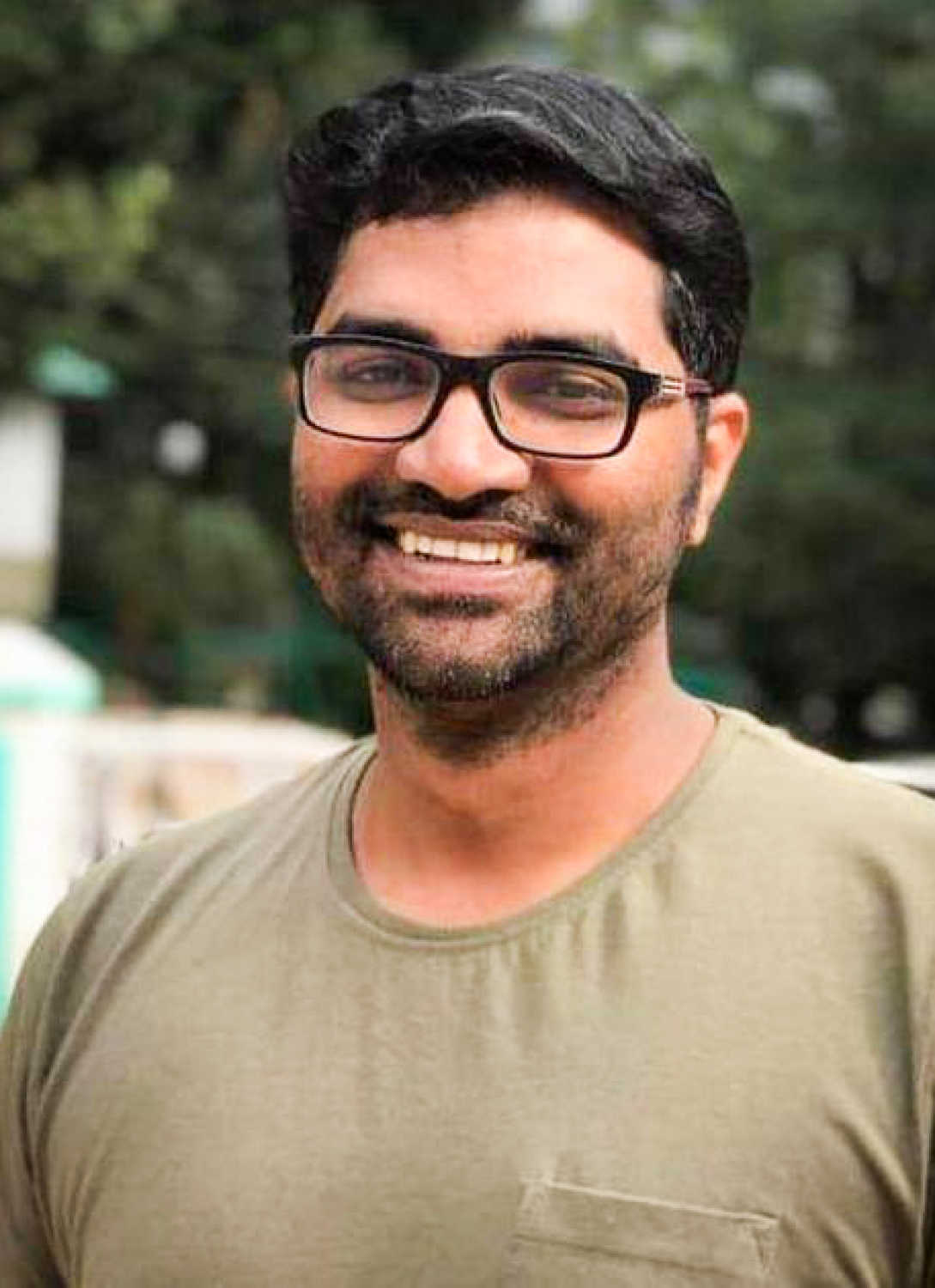 1. FilmBuff:  Congratulations for your extraordinary film "Biriyaani". What triggered you to make such a subversive film??

Thank you so much for reaching me and your appreciation….As I always said, it began with a thought of what happens with family or closed ones being accused to join ISIS. At the same time, how Muslim religion expect a women to be confined to the four walls of their house, I have seen it from close quarters how they are treated eventually became part of this movie. More than the religious issues, through this movie, I am trying to bring into picture what a woman, be it my mother, my sister or my girl friend faces in their day to day life, their lack of freedom, be it sexual or any other kind both in their own family and from society. If we see only the sexual aspects, how majority of the men see their women as an object of fulfilling their desire, is also an area that I have tried to capture or showcase.


2. Please tell me how you came into film making??
I don't remember when this idea came to my mind.When I did my first movie, I was of 25-26 age, like any youngsters, I too had lot of questions within myself which I tried to put it through my movies. I grew up in a village in between all the religious communities. I wouldn't say, there was no religion, at certain point in life I felt I must live without the background of any religion. I left my home at the age of 17, pursued my graduation, BA.,LLB doing all odd jobs. Often from my name, people find it difficult to determine my religion, after seeing Unto the Dusk, some felt I am Christian while after Biriyaani, I will be looked as a Muslim. Sadly in my conversation with this confusion, often I have seen that the well known secularist talks about religion more than the fundamentalists. There were still a lot of it especially concerning the religion which was further explored in my second and now Biriyaani. I can definitely say that such realistic societal issues are of interest me yet in my next I would want to try something more fictional and thriller genre. It is difficult to express in words on what I have learnt, infarct I try to express it through my visuals.
3.Your previous work: Tell us about that??
Ayaal Sassi – (A man with Coffin) 2017
Asthamayam Vare (Unto the Dusk) 2015
previously I wrote and directed Asthamayam Vare (Unto the dusk) that was my debut feature film. It won me numerous accolades and was also screened at various film festivals across the globe. Second feature was Ayaal Sassi (Man with a coffin) a satirical film in 2017. It was released in theatres and available in Zee5 platform.


Trailer:

UNTO THE DUSK (Asthamayam vare) Theatrical Trailer-

https://www.youtube.com/watch?v=9dAPishGt9w

UNTO THE DUSK (Asthamayam vare) PROMO SONG-

https://www.youtube.com/watch?v=Fj4iUYq5z38


Awards & Recognition:

The film has won Rajathachakoram, the award for the best popular film (Audience Prize) at International Film Festival of Kerala (IFFK), 2014.
Certificate of Merit to promote the film (Unto the Dusk) at National & International Market at IFFK, 2014.
Chitrabarathi Award for Best Indian Film (Unto the Dusk) at International Film Festival of Bangalore (BIFF), 2014.
Best Debut Director Award (Unto the Dusk) from Kerala Film Critics Association, 2014
Unto the Dusk was World Premiered at the Mumbai International Film Festival, 2014 in the India Gold Competition Section, followed by the selection in International Competition at the International Film Festival of Kerala (IFFK) 2014.
The film is the only Malayalam movie to be selected in the International Competition section of All Lights International Film Festival, Kochin 2015.
The film was also screened at various film festivals including the Chennai International Film Festival, Kochin Muzaris Biennale Delhi Habitat Festival etc.


Reviews:

http://www.asianetnews.tv/iffk/article/20735

http://news.keralakaumudi.com/news.php?nid=c65b60eff56edeea9f6ea5d487efdca7

http://www.azhimukham.com/news/5675/malayalam-cinema-review-unto-the-dusk-sajinbabu-nasirudheen/share

4. Kerala has a rich heritage of film making. Are you influenced by any/a few of them??
Definitely, influenced by great film makers like Adoor, Aravindan and KG George.Apart from these film makers, the major film festivals(IFFK) and film society movements in Kerala(FFSI activities, Filca film society, Chalachitra film society and Banner film societies also influenced me get into the film making.

5. What kind of role Kerala Chalachitra Academy playing in promoting film culture??
They are doing so many activities including film festivals in different cities, supporting film societies to conduct film festivals, conducting film appreciation classes throughout kerala etc. The result of Chalchitra Academy is being created large number of film buffs, as compared to other states in India.

6. Now coming back to Biriyaani,this is most significant film of the year coming from Kerala.How the story happened??

Frankly, few years ago, I was undergoing a crisis that made me realize to start thinking being in a women's shoes. Perhaps there was a paradigm shift all together, say for e.g, a women's fear, how it is formed, how society plays a role etc, such thoughts eventually led me placing my story from a women's point of view. Honestly from past 15 years I am not practising any religion, I have seen these issues very closely in growing up years. Perhaps, more than what a women from other religion might be facing, I have encountered more from Muslim background especially in rural areas. I have had chances of researching further while scripting this.
Many a time I have felt that irrespective of gender, as a human, we would have faced such issues. In India, we see this from our own family or society, be it male, female or transgender. I have tried adapting it in my female lead's life.
Such issues that we read day in and out, especially lot of people joining ISIS from Kerala had been doing the rounds of headlines from quite some time. It has definitely inspired me but many a time, how society treats their kin, how their life and livelihood is affected are never looked upon or discussed.

7. The film deals with multiple narratives: the branding of Muslims as terrorists, suppressed sexuality of Indian women, food as a tool for seeking revenge…..what exactly you have in mind while focussing on the script??

As compared to other states in India, Kerala Muslims are living much better life, be it in terms of education, or standard of living. I am not here to have a controversy. However the film's that I have seen especially by masters, they have put it more bluntly. As this film demanded such an approach, I too did it as we see it as much as possible. In Fact there is nothing newly formed or shown through this movie, just that its existing in real world, so do in the movie. I wish it be seen in the right perspective.
As a film maker, I did not consider much about it censorship, I tried to make it the way I visualized it. We did not even consider opting for a particular format. We expect film festivals to support, though we don't know its criteria, also if digital platforms may also be opted for. If need arises, we may go for some cut/edits for censoring however without compromising it's true essence. The film's rough cut was selected for Film Bazaar Recommends in Goa, won awards and travelling festivals also.

8. Please tell me about the casting. What made you pick Kani for the lead role? Also, how did you pick the other characters?

Most of them are from theatre background. The one playing mother role, J Shylaja is from NSD. Surjith Gopinath, Thonakkal Jayachdran, Syam Reji have played other characters are also from theatre background.
While writing screenplay, Kani was already in my mind for the lead role. And i was very happy with her performance. It was much easier for me since it was Kani I feel; perhaps with the way she has approaches a film or a character. Infact I see her as an actress with lot of potential, a very talented actress we have, the audience would definitely feel it while they watch the movie
In a place like India, its bit challenging however according to my actors, it was same like performing any other scene. This sense of understanding along with awareness of what the script demanded made my job easy as a director in filming such scenes.