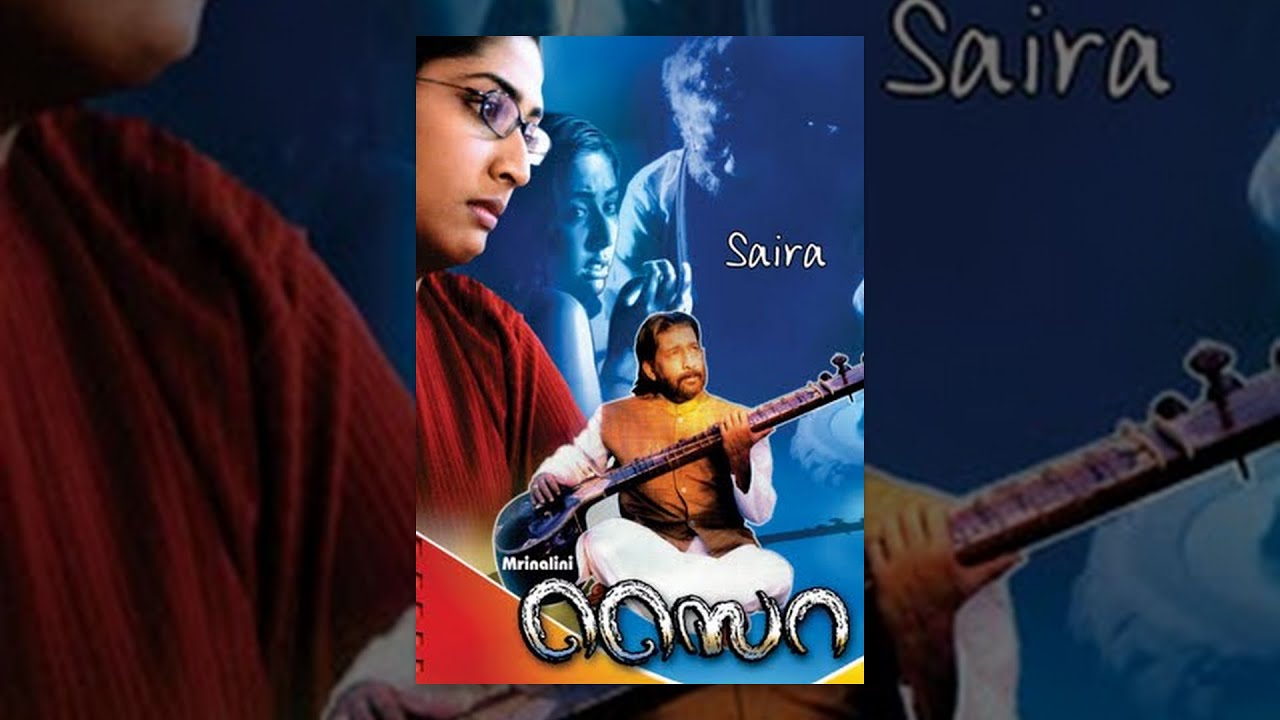 "It is not death that you must fear. If you can live in this world devoid of peace with a peaceful mind, then it is your mind that you should fear."
Intertitle from Saira, 2005.
I've been a fan of Malayalam director Bijukumar Damodaran (generally known as Dr. Biju)'s films since first watching Akasathinte Niram("The Colour of Sky")– I was so intrigued by the film, an allegory on human nature that emphasizes individual goodness as a central theme, that I've made a point since then of seeking out his films, but I have to admit, it's become more and more difficult to find them, something of an irony in an age where we've seen an explosion of streaming platforms, providing access to a much greater variety of films since I first began hunting down Malayalam films just over ten years ago. I own most of Dr. Biju's early films on DVD, but more recent films, such as Sound of Silence (2017), Painting Life (2018), Veyilmarangal("Trees under the Sun", 2019), Kaadu Pookkunna Neram ("When the Woods Bloom", 2016), and, of course, Perariyathavar ("Names Unknown", 2014), remain elusive for me as a viewer.
Part of the challenge, of course, is that Dr. Biju's films have mainly been accessible through film festivals – which are, of course, where I first discovered them. He's been known to say that he makes films for himself:his emphasis as a filmmaker is to create films that serve to inform and advocate on important social and environmental issues, presenting universal themes that permit audiences beyond his native Kerala to connect with his films.
InDr. Biju's first film,Saira, Ustad Ali Hussain (Nedumudi Venu) is a famous ghazal singer whose foster daughter (the titular Saira, played by Navya Nair, whose back story is dropped throughout the film) gets hired as a news reporter. Her first assignment involves the troubled region of Kashmir – something her father finds disconcerting, thinking that it's rather a challenging assignment for a new hire, though he's also pleased, as his own father had been accused of being a Pakistani spy (merely for having lived in Pakistan) by the newspaper associated with the TV station that has hired his granddaughter. For Ustad Ali Hussain, this is a family wound healed by the power of time. Saira listens to her father's concerns, but she also points out that dissent and discord are par for the course everywhere in the world, a problem her father attributes to the loss of "pure music" – without this art form, minds become troubled, and that leads to a troubled world – indeed, when Hussain finds himself worried or troubled, he turns to his tabla. Saira understands her father's point of view, but for her the issue is more down-to-earth; she sees, rather, troubles arising from people's loss of faith in their leaders, as well as the tendency of some people to place too much trust in their leaders as the real cause of such unrest, a view that her father does find some merit in.
If Sairais a compelling and powerful film, it's due in no small part to how it establishes the relationship between father and daughter. There is an excellent complicity between the lead actors Venu and Nair – the former is a constant and dependable presence in Malayalam cinema, particularly as a father or father-figure; the latter is charming and effervescent. He provides the film's gravitas; she gives it energy.
Saira's work allows Dr. Biju to raise questions of terrorism, activism, and Kashmiri independence, putting their views into the mouths of Saira, her father, and the people she interviews. There's risk in this work, but Saira finds it worth it for the interviews she's able to share. Watching one such interview with her father (an exclusive interview with Khasim Abbas, a self-described Muslim activist, considered a terrorist by authorities), her father is agitated, finding the interview simplistic, and Abbas's arguments merely an excuse to justify communal terrorism. Saira, by contrast, appears proud of what she's accomplished, and excited by an interview she categorizes as "explosive", a view that's reinforced when she hears that the interview has set the station's telephones ringing. The interview also catches the attention of the government, who wonder how she was able to connect with Abbas, and her employer warns her that there might be a police enquiry into her work. He's right – the police do seek Saira out, wanting to know how she managed to make contact with Khasim Abbas, whom they consider a wanted criminal.Saira says she cannot reveal the information they want: she and her crew were brought to the interview spot blindfolded, so she doesn't even know the location herself, other than it was in the forest. Furthermore, she feels a journalistic duty to protect her sources. She does provide the policeman who interviews her with the general details of how the connection was made, but she gives no concrete information, because, as she states, everything was arranged through anonymous phone calls from several locations.
Saira'snext assignment as a reporter is to cover Swami Tapatheerthananda – described as being on a number of terrorist hit-lists – on a visit to Kerala to inaugurate the Hindu Cultural Trust, a visit protested by some Muslim groups. Saira is proud that she – the Muslim Saira Ali Hussain – has been chosen to cover the controversial visit of Hindu religious leader. Saira's father is worried, feeling the situation might lead to trouble, but Saira is sanguine – troubles can arise at any time in any situation, so why should she be more concerned about this assignment? Furthermore, Saira knows that the Swami is known to maintain close ties to Hindu terrorist groups, and the fact that this, his first visit to Kerala, has caused strong protests – she relishes the thought of having another chance at an exclusive interview with a controversial figure. This assignment, however, turns into a nightmare for Saira, when an attack on the event results in the death of Swami Tapatheerthananda, and of Saira's cameraman, leaving a wake of violence behind it. Saira disappears in the confusion, and when she is found, days later, we learn that in aftermath of the attack, Saira is picked up by a group of men, who hold her captive and gang-rape her. A traumatized Saira, trying to rest and recover, is soon pulled into the investigation of the attack, as the police accuse her of being involved. The investigation of her rape is quietly shuffled to the side as the case against her, based on circumstantial evidence, is built. Saira becomes a victim yet again, as the police accuse her of getting her job through connections to Abbas's terrorist network, of participating in the attack on the swami, and of using those connections to promote Abbas's message through her work. Ustad Ali Hussain tries to help Saira, but he finds himself helpless in the face of a system that, instead of working for innocent victims, becomes complict in the indignities inflicted on them.
I'd been thinking about Dr. Biju and his films as a result of a recent post to his Facebook page, commenting on the lack of attention by film critics within his native Kerala for his film Perariyathavar ("Names Unknown"). Perariyathavar is a film I'd been excited about since I first heard about it – I'm a fan of both Dr Biju's films, and of actor Suraj Venjaramoodu. I knew that although Venjaramoodu is mostly known for his comic and character roles, that there were films I'd seen him in (like, for example, the 2010 film Malarvaadi Arts Club) that made me think there was more to him as an actor, and by all accounts, Perariyathavar was a film that allowed him to show another side to his work – so much so that he won a National Award for the role.
It's certain that Dr. Biju has grown as a filmmaker since Saira (even I find the film's narrative somewhat confusing, at times)– and by all accounts Perariyathavar might be one of the best films in his career, with its examination of the marginalized sweeper played by Suraj Venjaramoodu – but he remains true to his ideals as a filmmaker to explore issues that matter to him, often taking controversial stances against organizations like AMMA (Association of Malayalam Movie Artists), most particularly in what he (and others) see as its institutional misogyny.  Whether one agrees with his views or not, it's certain that Dr. Biju's films are an important voice in contemporary Malayalam cinema, challenging us to face issues head on, making us uncomfortable as our beliefs may be challenged, disturbing our peaceful minds by showing us, film by film, how devoid of peace the world is for many of its most marginalized inhabitants.  I, for one, long for the day when I can see all of his more recent films, and share them with others, when I can have my peaceful world view challenged by a filmmaker who isn't content to chase after commercial success, but who sees his role as a creator to shed light on issues.  Religious fundamentalism (both Muslim and Hindu), communal tensions, and the idea that those who suffer the most in these clashes are the poor, the women, the children, and the powerless: the themes in Dr. Biju's debut film remain just as relevant today as they were when the film was made fifteen years ago.  
Bio
Writer with an interest in South Asian cinema (especially Malayalam language films), Korean dramas and literature, and a fondness for French films nursed during several years living in Lyon.  Now based in Guelph, Canada, and online at totallyfilmi.com.