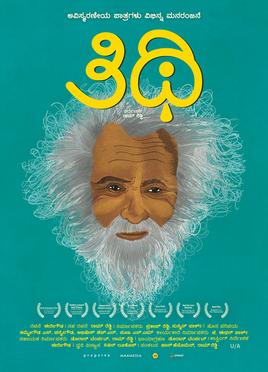 Skeptical as to what newness a Kannada film could offer, S Viswanath, is bowled over by the enterprisingly chiseled and excellently crafted Thithi, a black comedy by debutant Ram Reddy.
Thithi is a triumph of Kannada cinema. It stands as a singular testimony to the arrival of astute auteur who knows the craft of cinema like the back of his hand.
All of 24, director Ram Reddy has set the bar for himself so high, he leaves several of his illustrious peers, trend setters, way behind. One shudders to think whether Ram would be able to rise above the standards Thithi so luminously shines coveting even the worst of naysayers.
A cracker of a cinema that not only warms the cockles of true blue cineastes, but shows that all is not lost for Sandalwood, when it comes to serious, aesthetic, art house cinema of world class.
Ram Reddy, with Thithi, comes across as a classy and seasoned auteur who knows his cinematic métier and proving it with his delectable and gloriously written screenplay and neat and nifty knit narrative.
Thithi, on the face of it, going by its title, may sound morbid and morose, given it means funereal rites. A ritual undertaken on the 11th day for the dear departed so that his soul may rest in peace and his heirs and kin receive his blessings for hereinafter.
Steeped in simple and soulful humour, Thithi is cracker of a black comedy, at its best, true to the genre. There is not a moment you don't laugh at the goings on, even as the film, with its underlying theme, cajoles and goads you to think on the state of affairs our villages have to contend with.
Holding a stark mirror to the foibles and faults of a family and its three generations, Thithi is a village vaudeville, like a traditional folk theatre, under whose veneer of vintage humour, lie the woes that still infest our villages.
As Ram Reddy himself concedes as much in an interview "the narrative is racy, relentless and whimsical. The characters are joyfully enigmatic. While the cinematic style is carefully crafted, I believe human narrative is alive enough to keep the interest of wider Indian audience who may not be typically used to realism as stylistic approach." Thithi, typically represents "this balance of narrative and form indicative of films that are both stirring and enjoyable at the same time."
Humour is a convenient, clever façade here. Beyond the subtle and sparkling humour, Thithi is a serious tale of tribulations that cajoles its viewer to think and ruminate on the state of affairs that gnaw at the villages and its lively inhabitants, vital core.
The film begins on a crackling note. Century Gowda aka Channakesware Gowda, a doddering village elder, is your proverbial patriarch who watches the world pass by even as he basks in the soothing warmth of morning sun.
Perched prettily on the kerb side, with characteristic cane in hand, he is a veritable motor-mouth, shooting a volley of diatribe at his fellowmen mocking and chiding them, as they go about their diurnal tasks.
Having hit a century, this affable, Chaplinesque elder man, who ridicules others with his risqué remarks and rascally charm, is himself, also the centre of fun, and butt of jokes and jibes, who riposte back, thinking him no less an ass, silly old fool, up to mischief and his ravings, of a man, on the threshold of death.
Least does he, village folk, and audience, all swept away into his wooly, loose-talk world, jolly jabbering, are least prepared for the next shocker to come.
It comes unannounced, like a bolt out of the blue, as the man, saunters to the by-lane and squats to pee in typical Indian fashion, but topples and keels over ending the mirthful charade into a more morbid mood that is to follow.
Even in this sorrowful state of affairs, mirth and merriness of the movie is not lost. Never for a moment losing the comic streak, Ram Reddy gets into the thick of action after this short, sprightful epilogue, as he gets into the next stage of his brilliant cinema to bring in colourful vicissitudes of village life and living.
As Century Gowda leaves the earthly domain, Thithi, turns its spotlight on his sangfroid, stoical son Gadappa, a much materialistic and opportunistic grandson Thamanna, and great grandson Abhi, a carefree, teen on the threshold of adulthood, who cocking-a-snook at his ever demanding dad, dreamily and relentless pursues the attractive shepherd girl Cauvery.
Amidst the cyclical inevitability of death, three strands of narratives are sewn seamlessly before the D-day as desire takes the better of their own good in grandson and great-grandson.
If the long dead centurion father was a paragon of parody, the son Gadappa, with his Zen Buddhist mien, is his exact opposite and very anti-thesis of his illustrious dad.
Totally very matter of fact and nonchalant to happenings around him, he is his dead dad's contrast, but whose every action, utterings, evokes the same mirthful laughter his dear departed dad did.
A footloose, fancy free nomadic at heart, he is a virtual human smoking chimney and one who downs brandy down by the dozen bobble, in perpetual motion wandering like an iterant traveler never knowing his destination. He takes the trail where his tread leads him and his spirited self languidly lugs him.
If that be Century Gowda's son, Gadappa's own Thamanna is a man in a hurry, a typical today's practical and calculative man, who wants to make a quick capital of his granddad's death.
A man of the moment, materialist to the core, greedy to his pith, ever busy on his mobile, Thamanna sees an opportunity to grab the family's five acre property while still the family and the village is in mourning.
Deep in debt, and with many claimants in line, and a son who cares too hoots for his father's constant chiding, Thamanna will leave no stone unturned to usurp the ancestral property, which he believes is rightfully his, given he is the only hardworking fellow in the family.
Even as Thammanna is assiduously at him, begging and borrowing to grease the palm of officials to make a death certificate of his still alive father, his son Abhi a youth of today of mobile and internet generation has other interests than do at his dad's bidding of looking after their farm.
Not a whit useful for his every fuming father, who constantly chides him for not helping him out, this wily wastrel, who whiles away his time drinking and gambling with his equally worthless friends, every once chipping in to do his dad's bidding, sets his eyes on a waif of a shepherd girl Cauvery.
Given to watching pornographic images on his mobile, the smitten young lusty lad, with the lecherous smile on his face, is persistent in his pursuit of the pretty maiden, even making bold to land a kiss on her cheek during an unguarded moment, only to receive a resounding slap from the girl for the folly of his youthful adventurism.
Even as he is up to his tricks to melt the maiden with his romantic ministrations, ingratiating himself every which way to win her own, the practical and sensible, worldly wise lass, stubbornly tells the besotted beau to ask for her hand formally with her father.
With each unto his own – nomadic father, greedy son, and lovelorn, infatuated grandson, the film weaves a wondrous, magical marvel as it events eventually veers towards the 11th day funeral ceremonies.
Capturing every bit of village happenings with his intuitive eye, perceptively playing on these, Ram Reddy whips up a tantalising tale that Thithi is.
Of course, Thithi could have been even better had Ram Reddy eschewed few scenes to attract the common masses, though one may argue it is necessary for the theme to help educate the uninitiated audience.
One is the kiss scene, the other is porn pictures Abhi watches on mobile, and third, physical intimate act of Abhi and Cauvery, totally unwarranted.
That Ram Reddy treasures his Thithi like a feline its kill never parting his film from sight, is understandable. Here is a cinema that does not need an outsider's endorsement for its critical success.
Ram Reddy knows he has crafted a winner, awards and encomiums it is receiving at festival circuits testimony to it.
None can write a dirge for Thithi. It is a treat and truly cinema at its creative best. Only accolades will toll for Thithi, and missing a date with Thithi, is like letting most precious cherishing moment in life pass by.