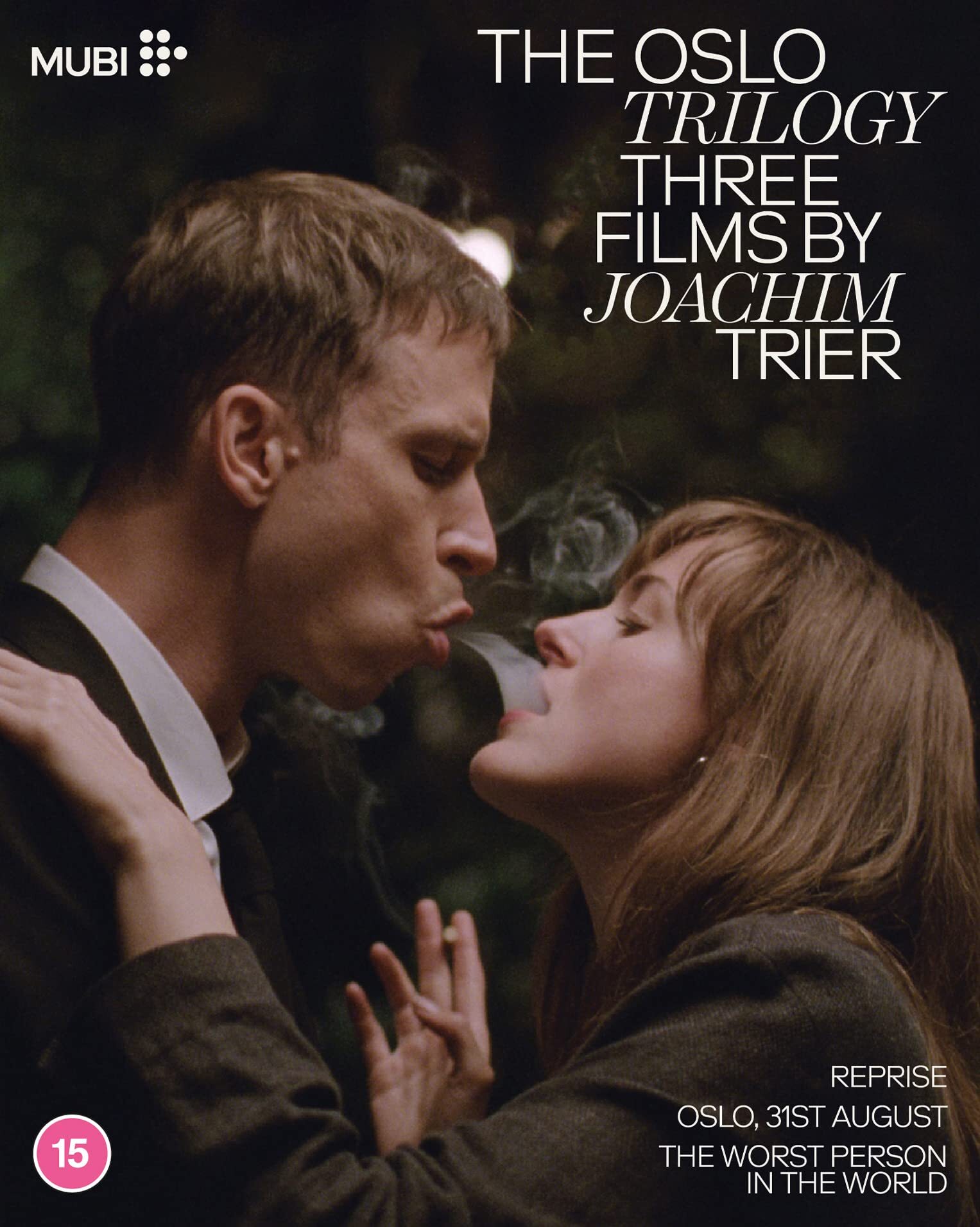 When talking about contemporary European cinema one can not ignore the works of the highly talented Norwegian director Joachim Trier. His debut film Reprise (2006) received the Amanda Award and the Aamot Statuette, both top film awards in Norway. Internationally, it won prizes at film festivals in Toronto, Istanbul, Rotterdam, Milan, and Karlovy Vary. In 2007 he was named one of Variety's "10 Directors to Watch". Actually one can say that it is no surprise that Joachim Trier ended up in the movie industry. His father, Jacob Trier, was the sound technician of The Pinchcliffe Grand Prix, a notable film produced in Norway in 1975. His mother made short movies and his grandfather was Erik Løchen who was the artistic director of Norsk Film from 1981 to 1983. He also was a filmmaker and screenwriter known for such experimental work as his 1972 film Remonstrance which was uniquely constructed so that its five reels could be shown in any order, rendering 120 possible versions of its radical story of a film crew trying to make a political film.
Not all of the great directors were able to immediately show the public they could or would be the next big thing. Quite often they needed time to grow as a director and time to find their language, as in film language. Pedro Almodovar his succes started with 'Mujeres al borde de un ataque de nervios' in 1988 and his breakthrough film definitely was 'Todo sobre mi Madre' in 1999, almost 20 years after his debut. Woody Allen his breakthrough was 'Annie Hall' in 1977 and David Lynch reached a broader audience with 'Blue Velvet' in 1986 and even that movie back then was a cult classic. Don't we need more of such facts to understand how rare it may be for a film director to step out in the world with a debut film such as Reprise?
Before diving into Joachim Trier his Oslo trilogy let's set things straight. This is not an intentional trilogy such as for instance the Three Colours Trilogy (Blue, White, Red) by Krzystof Kieslowski between 1993 and 1994 or the Ingmar Bergman Trilogy (Through a Glass Darkly 1961, Winter Light 1962 and The Silence 1963) all explore belief and alienation in the modern age and somehow examine the necessity of religion and faith. With the Oslo trilogy it wasn't even the director himself who noticed there was some sort of a trilogy in the making. It was the actor Anders Danielsen Lie when reading the script of The Worst Person in the World who told Joachim Trier that he loved the script but understood there was some sort of continuation involved, as if he was doing a third part in an Oslo trilogy.
Nr 1 Reprise (2006)
Reprise is the story of two young aspiring writers and their relationship. Joachim Trier his debut film is a coming of age film of these two best friends Erik and Philip. They both send a manuscript to a publisher and while Erik his book gets turned-down, Philip his book is praised as the new literary sensation. The film starts with Erik and his friends who drive a car to go and fetch up Erik. He has spent the last months in a clinic suffering from a severe mental illness. The actor Anders Danielsen Lie was in his last year before graduating as a doctor. He has such an intellect as an actor as if he perfectly knows what a real psychosis is. Some reviews talk about a tough depression, I think the depression comes after dealing with this psychosis. It is nicely portrayed the way Erik is struggling with the after-effects of a psychosis. This reminds me of the play "4.48 Psychosis" by Sarah Kane. Some people might know this play since some of the words are used in the lyrics of the song from The Tindersticks from their 2003 album Waiting for the moon. 2006 was the year that Das Leben der Anderen, Babel, Water, The wind that shakes the barley, Volver were released. Reprise definitely fits in nicely in such a list.
Nr 2 Oslo, August 31st (2011)
Reprise made it very clear to us that with Anders Danielsen Lie a new impressive actor was ready to have an impact on European cinema. Oslo, August 31st is the story of a young drug addict who has his first 'free day' after 10 months in rehab. He has an interview for a job as an editor of a magazine in the afternoon. Since he arrives early in Oslo he decides to meet some old friends and he has an appointment with his sister. Once again Anders Danielsen Lie shows us his impressive talent in bringing to life those deep, sometimes ugly, personal issues we cope with and have to deal with. This movie, like most of Joachim Trier his movies, is extremely compelling. He takes you with him on a slow journey, one day long filled with brilliant scenes. The talks with friends or the thoughts when alone, the way he describes his parents, all helps us in getting a better picture of this young man. Thinking back after watching Oslo, August 31st it feels like a slow uppercut or like cherishing a nice bush of flowers and then suddenly feeling the effect of the nettles. This is not Darren Aronofsky's Requiem for a dream, which is completely different but still I do feel some resemblance. Requiem is ugly, Oslo is the beauty of one's very personal painful inner soul.
Nr 3 The worst person in the world (2021)
And now ten years later suddenly we talk about a trilogy. While the first two films still have that young daring experimental energy, The worst person in the world is a very modern movie. It's fast, colorful even very flashy at times. The main character does not know what to do in/with her life. Study, work, many parties, and she leaves her relation for a different more daring and slightly kinky one. Joachim Trier his movies are filled with brilliant scenes and very important dialogues. 2022 themes, such as the fear to make decisions with so many options or the continuous search for something new. You can ask yourself if this is the new zeitgeist?
One of the themes in most of his movies is about relations. Joachim Trier definitely has a good view on women or he shows another approach in showing how women are and think and live and do. His characters definitely are real characters not cliches as women often were shown in the past.
Having watched all three of these movies again I still wonder what exactly makes them so great. Is it really showing in a layered way what young adults in the western (upper middle class) world are forced to deal with. Who do I want to be? What do I want to show the world? In the high speed modern world you have to stand up and stand out. Dare to decide and stick on what is hidden inside of it, dare to find it. Is that the hidden message to our nowadays youth?
The Os-loneliness of Trier
"They are all quite self-doubting people," said Trier about his troubled heroes in one of his interviews. All of his actors live their life with huge ambitions often combined with failed ambition. Together with a lot of insecurity about how to create purpose and meaning in their lives while feeling stressed by a tremendous sense of expectation you get a perfect description of how adults nowadays often try to live their lives. All of Trier his characters come from privileged, upper-middle class upbringings. They all have easy access to education, and still a built-in fear of defeat looms over them.
In all his movies you can feel the ticking clock of society which demands that one either succeeds professionally, settle down romantically, or reproduce. This is beautifully yet painfully shown in "The worst person in the world" where the free-spirited woman, Julie (Reinsve) seems at first so confident and daring in her choices but actually is still uncertain of what she wants out of her earthly days.
If one takes a closer look at these three movies that make this Oslo trilogy you can see the sharpness of our modern society where you have to stand out and never give up and grow and expand and live up towards your dreams and ambitions and don't believe in a standstill. You have to succeed and do something quite remarkable to feel that you're special, a meritocratic sense that you might not be able to live up to, which causes anxiety. Anxiety, depression, mental illness and so on is the backlash which stays hidden and is not discussed publicly. However in each of Trier his movies it surely is a theme. One could argue why is it not properly developed. But on the other hand, should it? Our modern society only focuses on the achievements of the ego who will shout it out in a egocentric way, while those people that can not live up to societies expectations are seen as losers and failures. That is the biggest drama of our modern society. We are all in a crowd partying when we win, but we hide away and are not talked about when we fall out of the rat race and hate that quite unstoppable arrow of selfish ambitions.
This is perhaps the main difference between a great director such as Ken Loach and Joachim Trier. Ken Loach his British socialist realism has the pain, the drama and injustices often as a main theme, almost a character, in his films. You can find such themes in Joachim Trier his films on the background and as already said, his characters aren't people living in poverty or on the fringes of society but live their dreams in the upper middle class.
Once a film is shown in theaters and the director and actors have done their job promoting it, most directors already are working on new work. They very often will not be analysing their own work. Talking with friends can bring up nice words or terms to describe what exactly makes Trier his films so typical. Thanks to another writer-director with similar sensibilities Joachim Trier recently found a pithy term to describe the mood this unofficial trilogy evokes: "There's a sense of loneliness to my characters. I was speaking to a friend and colleague Mike Mills and he said, 'You do that "Os-loneliness" thing so well.' And I said, 'Wow, can I steal that?' That's a great term." Os-loneliness says it all where you have the big city where everything happens. Oslo, where everyone dreams and works and are together working, partying and when home alone are on their own, together lonely alone.